AROUSE's Top 50 Albums Of The Year
As voted by our DJs and members!
As voted by AROUSE members in our end-of-year survey, here they are: AROUSE's 50 favorite records of the year 2018.

Data was collected by combining Top 10 lists from all 50 respondents, on a squared scale -- for example, a ranking of #1 of 10 was scored at 100 points, while a ranking of #2 of 10 was scored at 81, #5 of 10 as 25, and so forth.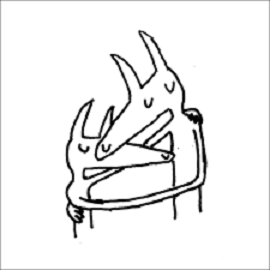 #1: Car Seat Headrest - Twin Fantasy
947pts, 903 minutes on-air
"I understand myself. I control myself. I control everything within myself. My domain is my domain."

"My Boy (Twin Fantasy)" fades in the start of Will Toledo's smashing reworking of CSH's original LP, murmuring with faded-crackle reminiscent of every vintage T-shirt on which I have ever spent far too much money. Readily aged and richly layered, rhythmically building to an impassioned series of outburst, cries, whirs, dashes, and dives, Twin Fantasy captures attention from the get-go, feverishly jumping from one-minute, eleven-words ditty-narratives to sixteen-minute maelstroms of somber piano, frustrated percussion, and frenzied outpourings of guitar and vocals. The album resounds with and within itself, exemplifying a realization of comprehensive sound and a tightening of bolts noticeably lacking in the original, similarly named 2011 version.

In its reamplified vitality, the album conjures a very soothing "then-and-now" sensation for me. To be quite specific, I have found myself stirred in the very same fashion as I have been when comparing the very first time I drove by myself at night compared to the two-thousandth. The simultaneous proximity and distance I feel from the first evening I was on my own—anxiously checking my rearview mirror and taking about ten seconds too long to merge a single lane on the highway, veering a bit too far left to get a better glimpse of the LeVeque amongst the Columbus skyline—shimmies its way out of my speakers as I watch my sun-bleached Batman air freshener spin to Toledo's densely-interlocking musical sections. There is an intimacy in the memory, and a reminder of the ever-growing distance from that moment, and the lyrics on the album remind me of that exact sensation. I am still anxious when trucks surround me on either side on the interstate, and I still play my radio too loud and stare at the LeVeque for a dangerously long time coming around on 70. But there is so, so much of a difference between now and then, and Twin Fantasy gladly embodies the dizzying way relationships, emotions, ideas, and musical ability change accordingly. Will Toledo describes the album as such in an interview, remarking, "I was not in the same place then. It felt at times like doing a cover record. The old one is by a different artist that I don't necessarily like as much as the one I've turned into."*

I was incredibly fortunate to see Car Seat Headrest perform live this past September, and their live performance firmly cemented this album in my personal AOTY list (which, coincidentally, sure looks a lot like the rest of this list below). If you have the chance, I highly recommend checking out some of their music videos, or grabbing a set of keys and an aux cord to take a 72-minute drive somewhere worth veering off the road a little bit, if only for a slightly better view. - Sarah Buckingham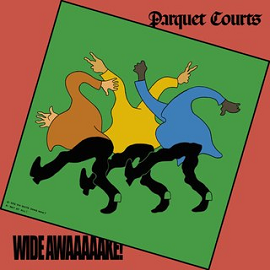 #2: Parquet Courts - Wide Awake!
736pts, 628 minutes on-air
"We are conductors of sound, heat, and energy."

Teaming up with Danger Mouse to produce their 7th full-length (this number is debatable), this album gained serious traction -- an invitation to Ellen, for god's sake -- and with good reason. "Total Football", the standout opener, rips through different tempos and rhythms, while A. Savage howls out lines like "It is dishonest, nay, a sin, to stand for any anthem that attempts to drown out the roar of oppression!"

The record has range -- from the bellowing punk tracks like "Violence" and "Almost Had to Start a Fight/In and Out of Patience" to the mellow, groovy tracks like "Mardi Gras Beads" and "Back to Earth", to the self-proclaimed "karaoke tracks" like "Tenderness" and "Freebird II".

All the while, the boys in Parkay Quartz prove themselves as "woke" -- but in a beautifully poetic way. Savage laments about New York City homelessness, violence's place in America, environmental equity, and much more. Austin Brown, who lost his sister at age 20, confronts that incident in lyrics for the first time on the ever-powerful "Death Will Bring Change".

This is the best rock record I've heard in a long time. Check it out. - Grayson Kelly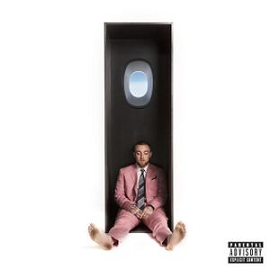 #3: Mac Miller - Swimming
554pts, 80 minutes on-air
Truthfully, I can't think of as big a rapper to die so young, at least recently (shut up, X doesn't deserve the honor). You have your regional names (Bankroll Fresh, Shawty Lo, Fredo Santana, Capital STEEZ). You also have big names that died before the current hip-hop scene existed - Nate Dogg, Big L, Big Pun, ODB, Pimp C, the list goes on. Mac Miller existed at the intersection of rap and pop and was the singular example of using that influence for good, using his gravity to lift up literally a good half of the new school of hip-hop today. His development from impish pop rapper into the blossoming musician we last knew him as was well-documented, but so was the drama he was involved with as a celebrity. Hindsight being 20/20, Mac was a man battling demons, ones that scuttled his relationships and haunted his music.

Swimming is Mac's most complete album. It's his best - this is the sound of a rapper who knows how to rappity rap, but knows how to make songs with those. This feels more like a sequel to GO:OD AM than anything else, and he speaks of his sadness in a way that doesn't glorify it or the drugs he uses. HIs singing and songwriting isn't as deft as the now's premier songwriters, but the rasp in his voice is heartfelt. It's clear that Swimming is an exercise in working out demons for Mac, in a way that other popular rappers avoid when they cut corners for bangers. So much of this album is meditative, and it especially stings to listen to it in the wake of his death.

So It Goes. - Sam Shomette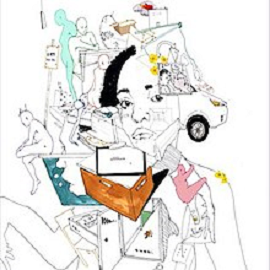 #4: Noname - Room 25
503pts, 66 minutes on-air
Noname's second album Room 25 may not be filled with the bangers some people are looking for, but it took her previous album's neo-soul influences and fleshed them out into a coherent project. The production grew to be more mature, Noname's delivery is much more nuanced, and she escapes the formulaic prisons that a lot of rappers currently are trapped in. She has impressively bridged the gap between the emotional vulnerability of spoken word, and the infectious hooks and flows of the jazz rap scene; creating a unique album that is certainly greater than the sum of its parts.

Anyone who feels rap doesn't challenge them tonally or lyrically definitely needs to check it out, because the album is a great touch point between its influences and prominent rappers in the underground. - Dominic Poemini-Mcgovern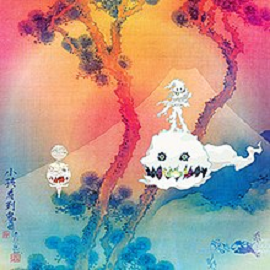 #5: KIDS SEE GHOSTS - s/t
501pts, 23 minutes on-air
Kid Cudi humming remains the single best sound in all of music, so naturally, I had high expectations for Kids See Ghosts. The album managed to exceed my expectations, bringing out the best qualities of both musicians while highlighting their undeniable chemistry. The listening experience can be described as a psychedelic adventure, like a less cringey version of the Rick and Morty fan art Kanye has been tweeting out recently. In other words, it's the album middle-school me (who spent two years playing "Pursuit of Happiness" on a loop) always wanted from Kanye and Cudi. - Nathan Wilson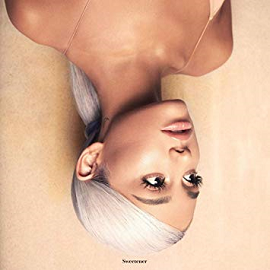 #6: Ariana Grande - Sweetener
492pts, 581 minutes on-air
Amid the honeymoon phase of a whirlwind relationship and criticisms from angry conservative Christians about whether God is a woman or not, Ariana Grande released another fifteen certified bangers with 'sweetener'. These songs not only had me striving (and failing) to hit those signature high notes, but also rethinking whether I ever need to include men in my life again. All jokes aside, the album showcased feminine energy in a positive light, and watching Grande confidently navigate the wake spurred by the album release was both inspiring and empowering. You could definitely say it made my life just a little bit sweet(en)er. - Gina Cerimele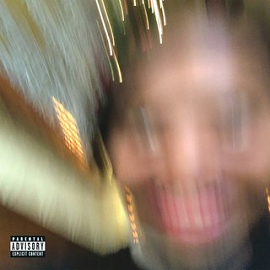 #7: Earl Sweatshirt - some rap songs
427pts, 29 minutes on-air
After three listens through Some Rap Songs, I still don't think I've really wrapped my head around it.

Earl packs so many ideas and fragments into 24 minutes that it feels like I discover new things every time I hear it. Unlike the dark, brooding atmosphere of his last album, Some Rap Songs is strangely jazzy and dense, with fractured choir samples and murky beats covered with a layer of lo-fi static. The whole thing sounds like it's coming out of a broken tape deck, and the mood perfectly matches Earl's slow, brooding delivery and elaborate wordplay. Out of all the big rap albums released this year, Some Rap Songs is probably the most unique, and by far the one I've come back to the most - and by far the best of Earl Sweatshirt's career. - Julia Jeffers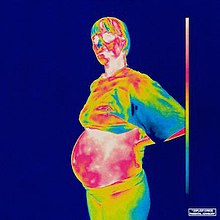 8: BROCKHAMPTON - iridescence
404pts, 685 minutes on-air
BROCKHAMPTON delivers their first major label debut under RCA Records with Iridescence. Iridescence does not pull any punches. It is brash and in your face on one song, and melancholy and nostalgic on the next. These contrasting emotions and songs are only strengthened by raw and powerful performances from each of their rapping members. Standout member Joba gives some of the most electric verses of the record, whether it be a nostalgic sad song like "TONYA" or a hard hitting, anger fueled trip like "J'OUVERT".

This record comes after tough summer for Brockhampton, with 2 cancelled albums, a cancelled American tour, and the loss of a member of the now 13-person boyband. Iridescence does not come simply in spite of these hardships, but because of them. Iridescence is a raw, unfiltered look into BROCKHAMPTON and how this group is coping with the hardships of fame. - James Pitts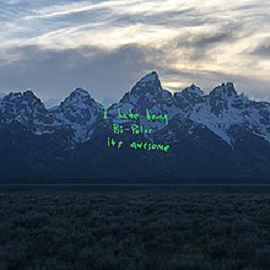 T-9: Kanye West - ye
399pts, 10 minutes on-air
In 2018 Kanye West made friends with the president, bought a house in Chicago, dropped a hit single with Lil Pump, and claimed slavery was a choice. It truly has been a shaky ass year for the Louis Vuitton Don, which is what makes his eighth solo album, ye, some of his most impressive work.

The production is clean and the lyrics are memorable, but what makes the project truly special is that it is as wild as the year West has had himself. There is no element of predictability or restraint, every track is a different thought experiment that takes the listener in a thousand different directions. And though every track is different than the one that precedes it, the project comes together to paint a self-portrait of the 2018 installation of Kanye West.

From the unforgettable monologue opening in "I Thought About Killing You" to actually spitting the phrase "None of us would be here without cum" on "All Mine" to the raw emotion executed on "Ghost Town" and "Violent Crimes," ye gives us an insight to the mind of one of the most insane yet genius artists of our generation. - Uri Uziel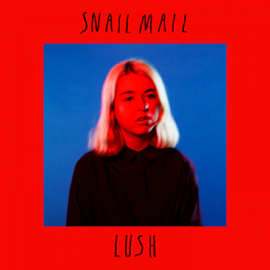 T-9: Snail Mail - Lush
399pts, 75 minutes on-air
For me, Lush is a dreamy escape from reality that evokes feelings of nostalgia for memories and places that don't exist to me. Lindsey Jordan's raspy voice is honest and comforting, imperfect in the most perfect way imaginable.

She is able to capture the feeling of unrequited love so acurately on "Heat Wave" and "Pristine"; these are the two songs that originally drew me into the album. THe only change I would make to Lush is to make it longer, because I'm left longing to spend more time in the alternate reality Lindsey's music brings me to.

I'm left excited and hopeful for what she will create in the future. - Allyson Hazen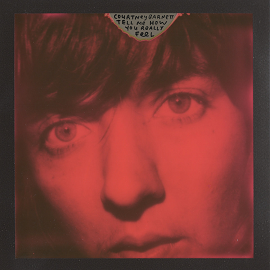 #10: Courtney Barnett - Tell Me How You Really Feel
384pts, 97 minutes on-air
"You don't have to pretend you're not scared. Everyone else is just as terrified."

Courtney Barnett wants to call you out on your bullshit. In fact, she called herself out on all her own to make it a bit easier for you. Barnett has distilled the wondrous verbosity of her earlier work into searing, at times oddly menacing, songs of pure honesty. Her knack for evoking hyper-relatable feelings through clever lyrics has only grown stronger.

In highlight "Charity," she faces latent anxiety and jealousy for those who seem to always feel great, like nothing gets them down. The production on this album is a bit more polished than her previous albums, and the songwriting rawer and simpler. This fits her well.

Her live performance has followed in this rawer direction, and I'm just gonna put it out there that Courtney is one of the best rock performers out there right now. I dare you to listen to "I'm Not Your Mother, I'm Not Your Bitch" and try not to feel her anger. Checkmate, bitch. You can't.

Highlights: Hopefulessness, Charity, Nameless Faceless, Help Your Self - Ryan Homcy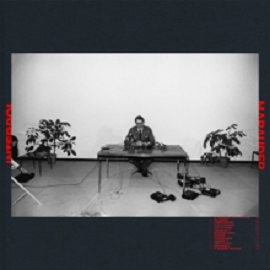 #11: Interpol - Marauder
379pts, 603 minutes on-air
When I discuss any Interpol album other than Turn On The Bright Lights, I am always faced with the statement "They'll never make an album better than TOTBL", which both confuses me and upsets me.

First, it upsets me because this logic immediately dismisses any work to follow with absolute, rose-tinted, prejudice. Second, it confuses me because there is a reverence for the past at hand paired with no actual understanding of the past. Certainly, TOTBL defined a generation, but it defined a generation where rock was practically reborn from a pseudo-death.

Given this context, TOTBL is certainly not flawless and shares similar characteristics to Interpol's latest album, Marauder, such as somewhat awkward lyrics (Compare "Subway, she is a porno" to "I can keep you in artwork, the fluid kind") and focusing on forbidden and/or lost love, but that's just Interpol. I know I've ragged on about TOTBL so much, but that has served this one point: This is Interpol today, so take this album at face value and enjoy on its own merits.

I believe that this album stands as a testament to Interpol's dedication to improve despite being over 15 years into their career. There are some excellent songs on this album that easily stand with the best in Interpol's discography such as "Stay In Touch", "Number 10", and "Surveillance". Overall, this album feels more focused than Interpol has been in a long time and I welcome this direction with open arms. - Jacob Schweizer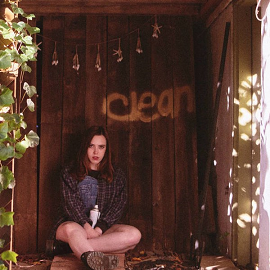 #12: Soccer Mommy - Clean
333pts, 686 minutes on-air
With all the emotion and attachment that comes with finding music that feels like it was written for you in mind and for only you to understand, comes Soccer Mommy's 3rd album Clean.

Released fairly early in the year, on March 2nd, it might be easy to overlook when tryingto organize a comprehensive list of top relesaes. However, one can't forget the catchy and witty tunes like "Cool" and "Your Dog" or the more poignant lyrics of the more somber "Still Clean" and "Flaw", and even featuring a poetic, nostalgia-inducing self-reflection in "Scorpio Rising".

The song (and album in my opinion) comes to a peak with the lyrics: "And I'm just a victim of changing planets / My Scorpio rising and my parents", ultimately coming together to form a cohesive and impressive release for a band still pretty under the radar. This album is everything I was looking for.- Ronnie Carlson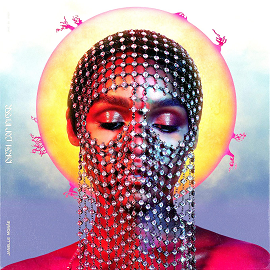 #13: Janelle Monae - Dirty Computer
328pts, 17 minutes on-air
Janelle Monae's third album Dirty Computer released April 27, 2018 is raw, fun, and has arrived right on time. The album was packaged as an emotion picture a narrative film and accompanying musical album. The work stands as an expression of lust, femininity, and existing as a black woman in America set against the backdrop of an android alt-present. The lyrics and beats build something beautiful throughout the album, one song melding into the next with precise intention. Hard hitters like Stevie Wonder, Brian Wilson, and Grimes contributed to the project working to build a layered beautiful sound that proves art and pop music do not have to be mutually exclusive.

Dirty Computer should be included in any conversation of best work created this year. It was my personal top vote, between the Certified Bop Pynk and the deliberate lyric work to unpack the modern black-queer-female-American existence Monae does not hesitate to express exactly what is on her mind. You can check out the emotion picture here to see for yourself. - Caitlyn Horn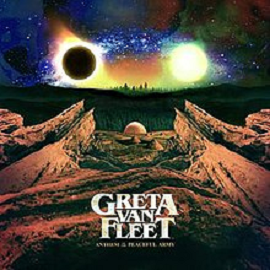 #14: Greta Van Fleet - Anthem Of The Peaceful Army
326pts, 29 minutes on-air
Before you read this, let me just hope that you haven't read the Pitchfork review of this album or watched Anthony Fantano's video. Anthem of the Peaceful Army made AROUSE's "Album of the Year" list, so it can't be that bad right?

I absolutely love this album. After listening to it for five days straight, on repeat, starting at its midnight release, "Army of Man" is one of the most beautiful songs I have ever heard. I believe that it translates as an audio representation of the album cover. "Army of Man" and "Brave New World" deviate from the band's previous work, becoming something imbued with aspirations of being prog rock.

Songs like "When the Curtain Falls" and "Lover, Leaver" have a sound that touches base with their last album From the Fires. I was raised on rock n roll of a few sub-genres and have expanded my taste on my own since then. Anthem of the Peaceful Army is everything I have ever wanted in an album. PURE ROCK'N'ROLL. No one has a sound like this in 2018. There's just something about this album that I will never get over. Each song has at least one shock factor that you're either not expecting to hear or that you've never heard before, and for that reason, it belongs on the AROUSE "Album of the Year" list, and at the top of my Spotify 2018 Wrapped. - Alexandria Olek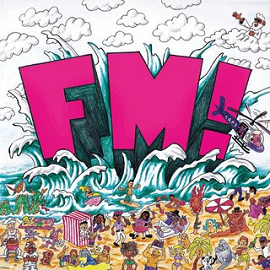 #15: Vince Staples - FM!
308pts, 16 minutes on-air
When I think of this last year, I think of a carnival - there's a lot of fun things going on, but nothing's completely safe. Carnival rides break. That sourness permeates FM!, and while its reference points (G-funk, hyphy, punk - here's looking at you, Dookie) aren't new, Kenny Beats brings the intangibles out of Vince. There's a snarl we haven't seen since the Shyne Coldchain mixtape days, and the whip-smart writing makes some of these songs instant classics in his discography. The idea of this project as a radio station, Vince's personal FM radio free of whatever shackles Apple Music puts on him, works without a hitch. Whenever Vince isn't in the spotlight, the emphasis is on the guests, from the radio hosts to Earl Sweatshirt. They're all in on the joke (no, the joke's not Tyga) - while shit's gotten real in 2018, the block's always been hot in Long Beach.

If this blurb doesn't inspire you enough, I also wrote a whole ass review on this project. - Sam Shomette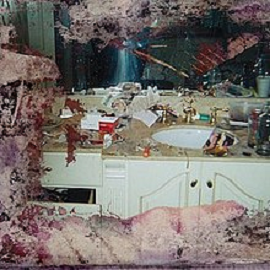 #16: Pusha T - Daytona
298pts, 6 minutes on-air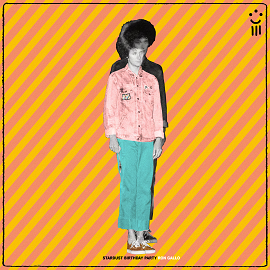 #17: Ron Gallo - Stardust Birthday Party
263pts, 621 minutes on-air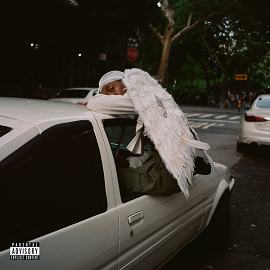 #18: Blood Orange - Negro Swan
246pts, 47 minutes on-air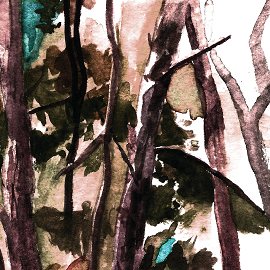 #19: Hop Along - Bark Your Head Off, Dog
242pts, 625 minutes on-air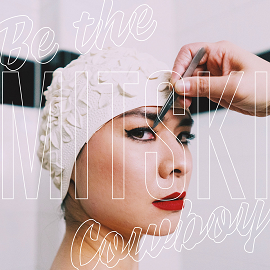 #20: Mitski - Be The Cowboy
235pts, 52 minutes on-air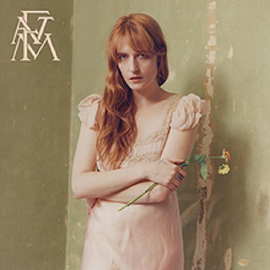 #21: Florence and the Machine - High as Hope
227pts, 11 minutes on-air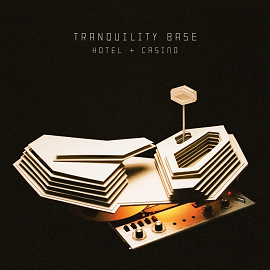 #22: Arctic Monkeys - Tranquility Base Hotel and Casino
219pts, 558 minutes on-air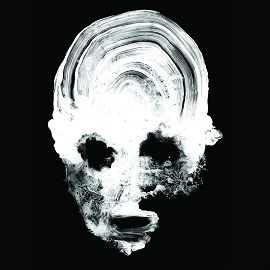 #23: Daughters - You Won't Get What You Want
217pts, 9 minutes on-air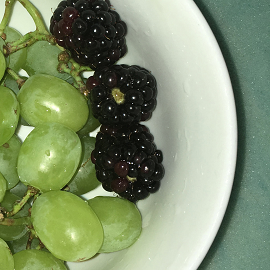 #24: Hana Vu - How Many Times Have You Driven By
213pts, 930 minutes on-air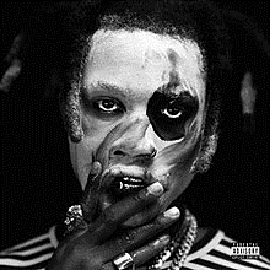 #25: Denzel Curry - TA1300
209pts, 19 minutes on-air
#26-50
#26: Jeff Goldblum - The Capitol Studios Sessions (198pts)
#27: Death Grips - Year Of The Snitch (188pts)
#28: The Internet - Hive Mind (181 pts)
#29: Saba - Care For Me (173 pts)
#30: U.S. Girls - In A Poem Unlimited (172 pts)
#31: Hayley Kiyoko - Expectations (170 pts)
#32: Unknown Mortal Orchestra - Sex & Food (167 pts)
T-33: IDLES - Joy as an Act of Resistance. (164 pts)
T-33: JPEGMAFIA - Veteran (164 pts)
#34: Yves Tumor - Safe In The Hands of Love (161 pts)
#35: Jack White - Boarding House Reach (160 pts)
#36: Father John Misty - God's Favorite Customer (153 pts)
#37: Travis Scott - ASTROWORLD (150 pts)
#38: Twentyone Pilots - Trench (149 pts)
#39: Playboy Carti - Die Lit (147 pts)
#40: The Carters - Everything Is Love (145 pts)
#41: Cardi B - Invasion of Privacy (141 pts)
#42: Beach House - 7 (140 pts)
#43: Mom Jeans. - Puppy Love (132 pts)
#44: Kamasi Washington - Heaven and Earth (131 pts)
#45: SOPHIE - OIL OF EVERY PEARL'S UN-INSIDES (123 pts)
#46: All Them Witches - ATW (107 pts)
T-47: boygenius - s/t (106 pts)
T-47: The 1975 - A Brief Inquiry Into Online Relationships (106 pts)
#48: Against All Logic - 2012 - 2017 (105 pts)
#49: The Voidz - Virtue (101 pts)
T-50: Jeff Rosenstock - POST- (98 pts)
T-50: Post Malone - Beerbongs & Bentleys (98 pts)