What You Missed at Audiotree Music Festival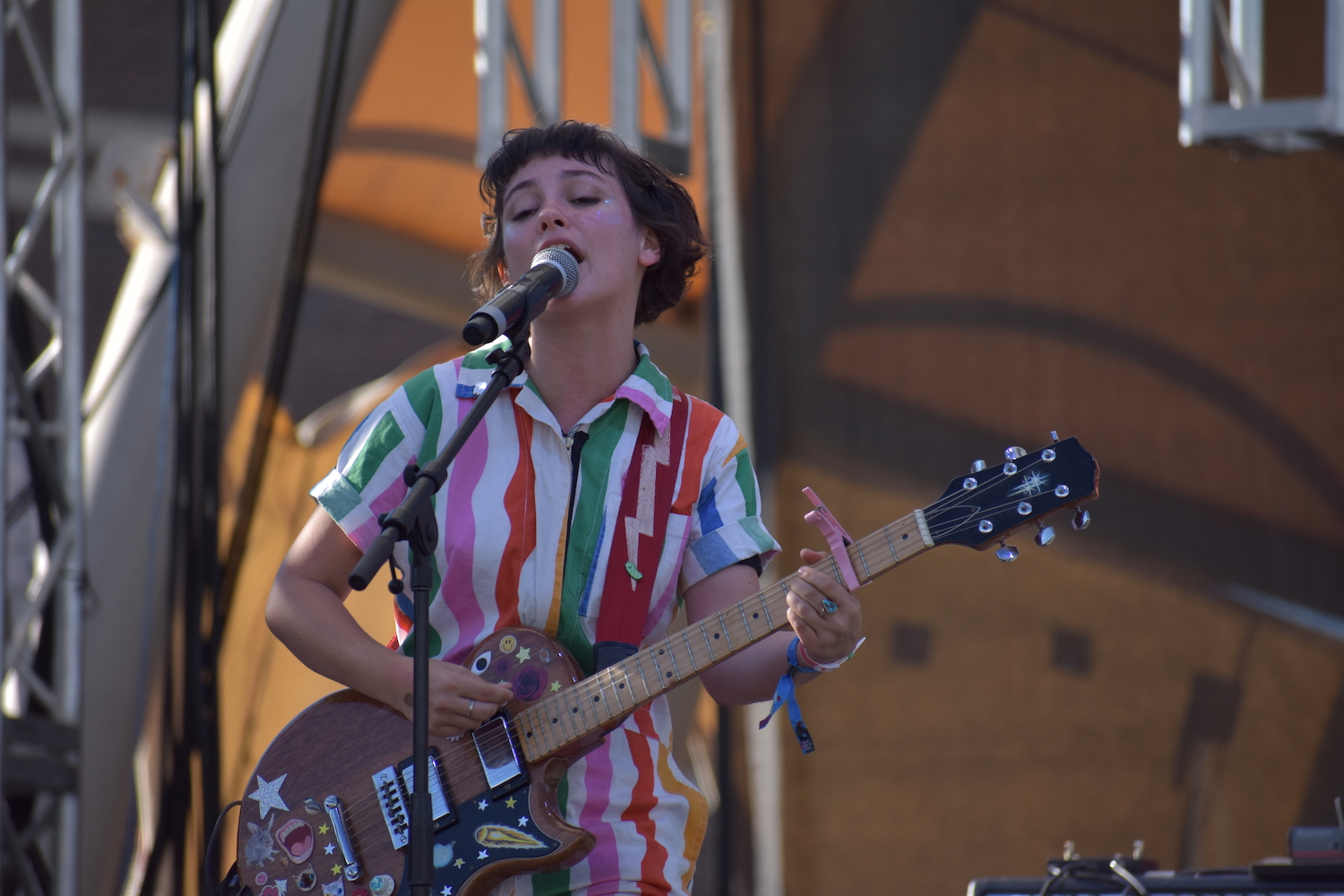 Published 11.16.18
I count myself as lucky to be given the opportunity to cover Audiotree Music Festival in Kalamazoo. I was honestly super excited to cover it, considering this was my first music festival, as well as my first event coverage for AROUSE. However, the two midterms I had the Monday after Audiotree meant that I could only stay for Saturday. Despite my first festival experience being essentially a one-day flyer, I still managed to have a great time!

A great time even with traffic and construction on the way messing with my original arrival time. I got to the festival as opening act Flaural played their last song. I really wish I could have heard a bit more - their music seemed to mix psychedelic with various elements, and I would have enjoyed hearing the whole set.

Immediately following Flaural was local act Moss Jaw, the first act on the second stage. It was obvious that this spot at Audiotree meant a lot to them, and it definitely turned me on to them to the point that I'm anticipating more releases other than the EP they have out currently. Their music was dreamy, with elements of post-rock and indie rock splashed in as well. Ultimately, the band provided a great start to my time at Audiotree.

The rest of the festival followed the "your turn, my turn" pattern that Flaural and Moss Jaw had between stages - Stuyedeyed was on the first stage of the day and gave an intense set that transitioned nicely into the cool-down that V.V. Lightbody provided. They even described themselves as "nap rock." Your turn, my turn - Melkbelly woke me up from the nap rock with a noisy, industrial run of songs that kept me absolutley engaged.

Melkbelly paired with the indie-folk set that Maybe April brought after them. To this point there was already quite a bit of variety in the acts here, despite the fact that this could all be billed as "indie" or even just "alternative" and nobody would bat an eye. To me, this really showed some skill in Audiotree's billing; there really was something for everybody here.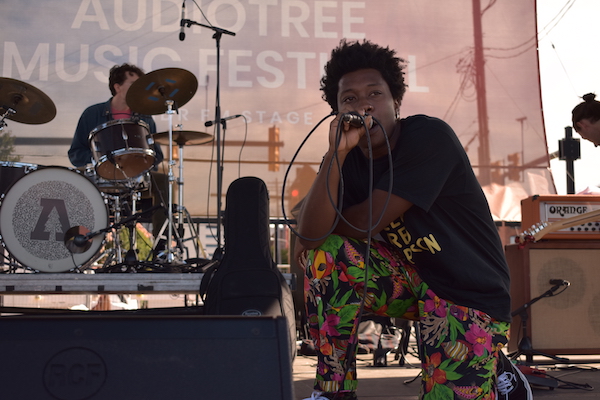 NE-HI and McKinley Dixon both provided some bounce and excitement as they came up to bat, so to speak. NE-HI very much fit the mold of indie-pop, which isn't a bad thing - they were fun! They had enough energy that I felt almost obligated to add them to the growing list of bands from this festival to keep tabs on. McKinley Dixon also brought great energy, but they were an actual hip-hop act, the odd man out at Audiotree even with their live backing band. The MC's pants really got my attention, but the onstage chemistry with the live band was genuinely engaging. They deserved more than the thirty minute set they had.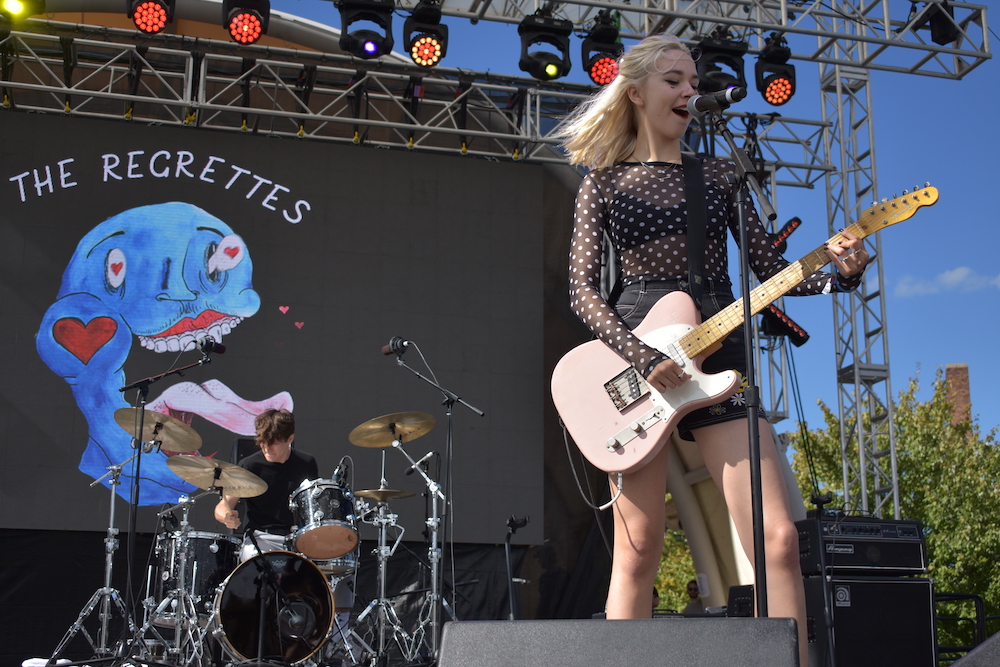 The Regrettes. Photo: Jacob Schweizer
The Regrettes were the first band of the day to really, truly knock my socks off. Pop-punk never sounded better with doo-wop vocals - there was a real energy and muscle to their performance that made me stop and take notice in the middle of taking photos. Miranda Winters came up next, in contrast to her performance as the lead for Melkbelly - she created a woozy soundscape with just her voice, guitar, and some loops. It was a one-woman show that I found myself lost in.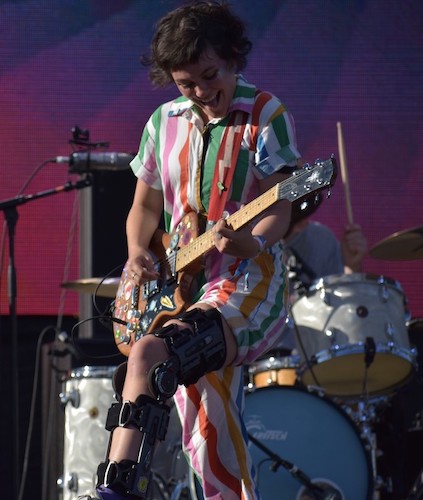 All of this leads to the Diet Cig set, which I had been looking forward to most in my preview coverage. Lead singer Alex Luciano's knee brace made a prominent appearance, and it was clear that tearing her ACL did little to hurt her actual performance besides provide a cool addition to her outfit (read: they knocked it out of the park).

After the excitement I had for the Diet Cig set, I couldn't help but feel a little down after seeing the next two sets from Michigander and Basement. I couldn't shake off the feeling that Brandon Flowers was going to come out and front Michigander - they sounded that much like the Killers. Basement provided a solid hardcore set from the UK, but this wasn't my cup of tea, unfortunately. The crowd loved it though, so this is one of those cases where I could recommend them generally instead of personally. And that's the thing with both of these sets: they were good, but I just was expecting to be more amped than I was.


Audiotree
As the sun was beginning to set, Khruangbin took the stage and wowed the crowd with the sound of Thai funk. It was a fitting introduction to the dusk that was settling onto Kalamazoo. I was personally taken aback by the crowd energy - I just didn't think an instrumental group could hold attention like Khruangbin did, but here we were, heads bobbing into the night. It was hypnotic how every song seemed to be made in the moment, each jam session bleeding into the next. If this sounds at all pleasing to you, they're in Columbus next month.

Local Natives rounded off the night. From the first few moments of opening song Past Lives to the very end of their set, they performed as if they were on a victory lap, their last performance of the year and possibly the last set before their next album is released. Before seeing Local Natives live, I was aware of their music, but I was never really a fan. I'm happy to say that this one performance converted me. Local Natives provided a good mix of old hits and newer songs, included a premiere of When Am I Gonna Lose You. It was a stunning ending to an already amazing day filled with great music.

If you take anything away from this article, it should be to check out Audiotree Music Festival next year. Without even touching on the food or atmosphere event, I hope I've made a good case for you to check this festival out. On the basis of the music alone, you should seriously consider this event.

Jacob Schweizer is a sophomore AROUSE member, majoring in Chemical Engineering, the host of Swishtape Delivery System, and birthday boi! He also has plenty of advice on how to start a keto diet.