The Kooks, Barns Courtney, FUTURE FEATS at the Newport Music Hall
"...a phenomenal demonstration of talent and excitement... until the last deafening moment of encore."
Published
"This is a college town, y'all get fucked up? I got fucked up real bad once. I wrote a song about it."
As the lights dimmed at the Newport Music Hall for the first time on Saturday evening, the crowd erupted, as openers FUTURE FEATS began their set.

Donning a leather jacket and a neatly slicked-back hairdo, the lead singer (only known as "Josh") bounded across the stage, jumping between monitors, and intermittently sprinting backstage to catch sips of water. It's clear that Josh is a dedicated showman, giving the Columbus crowd his entire aerobic effort.

In just the first song, we get tremendous pop vocals from Josh, powerful four on the floor rhythm from the drummer (referred to only as Zach), and all the while, guitarists Ben and Patrick (you get the first-name motif here) shredded with some serious rockstar energy.

The pop vocals were pleasing; notably, for being the first openers, the crowd was captivated: a majority of the them were nodding along to almost every song on the setlist.

Towards the end of their set, Josh, tonight's opening frontman, made the extremely bold move to dump his bottle of water over the crowd. Surprisingly, from what I can tell, the members of the pit were not upset -- in fact, many seemed excited -- as they were undoubtedly about to get sweaty anyway: after all, Barns Courtney was next.
Barns Courtney, while a passionate guitarist and even more impressive vocalist, seems to be the cross-pollinated bastard child of an extravagant Gospel organ and an orphic sitar.

He performed with the downright religious fervor of a traveling preacher, gleefully asking the crowd for more and more applause (which they gladly and fervently supplied). His energy on stage was consistently wild, aptly captured by the duct-tape semblance of letters spelling out the name.

Barns was quick-moving and hard to pin down, jumping in and out of the audience -- in fact, as he made his way into the crowd a second time, he flung his arm over my shoulder and danced with us as we followed his lead in screaming, leaning, and shaking.

Between songs, he referenced an interview he had done earlier that morning with CD102.5's (and AROUSE's very own) Grayson Kelly, and how he had already heard some of his own wild stories referenced on Columbus radio.

However, as outrageously fun Barns' presence on stage managed to be, and despite how absolutely downright talented the rest of his bandmates truly played, it was exceptionally difficult to pay anyone else any attention at all at times when considering the bassist. Milky, a native Irish bassist, had what I would assume to be the entirety of the crowd enamored by her visibly unfettered joy and passion, as well as her undiluted badass likeness, as she stomped, slide, and riffed her way through the set.

She informed me after their set (in between charming bouts of getting mobbed by awed audience members) that she had met Barns only last October at a music festival in Europe, and that she has played bass for about six years.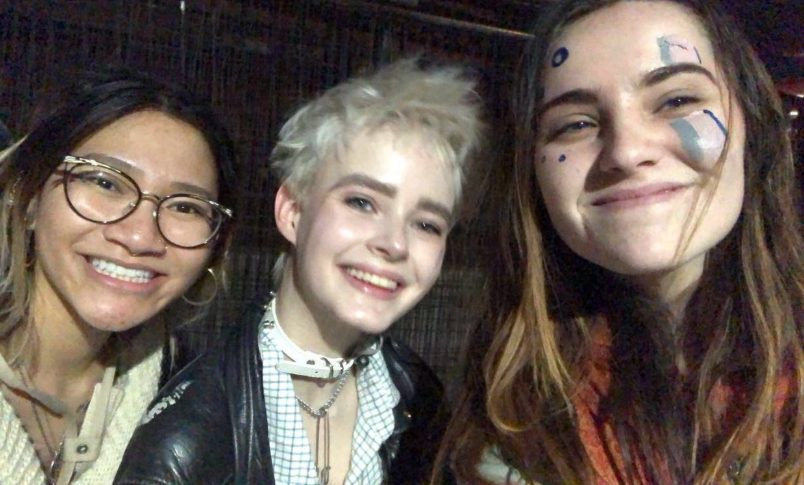 I can only hope this newest addition sticks around and continues to succeed in captivating audiences, along with the rest of Barns Courtney. If you find yourself with any extra moments of time at all, I highly recommend you check out more, and if you are especially free, then perhaps some interviews as well.
Luke Pritchard, Hugh Harris, Alexis Nunez, and Peter Randall came out on the dim-lit stage to the murmured roar of crowd realizations, as the individuals around me informed their neighbors excitedly, "oh they're coming out!", "finally!!", "it's them!!!", and "fuckitup Jamie, you spilled my beer!"

The show, sold out this past Saturday, was originally set for this past November; the anticipation of an additional three months of waiting to see the group perform seemed to have resulted in some members of the crowd -- I certainly being one of them -- more on edge than a typical sold-out show is expected to induce. But the band played accordingly, perhaps fully aware of how ready Columbus was.

They played a thoroughly mixed lineup with selections representative of almost every album in their discography, with songs from their smashing 2006 (2-million-selling) debut album Inside In/Inside Out, to their newest addition, 2018's Let's Go Sunshine, and every piece in between.

Despite what Spotify's "About" section-writer Mark Beaumont (not the impressive cyclist, Guinness World Record holder, and Dennis-from-It's-Always-Sunny-look-alike I had first assumed him to be) asserts, those "in-between" albums act as much more than simply fillers of time, but rather a lively and diversified bridge from one to the other.

The show was a phenomenal demonstration of talent and excitement, from the beginning of Luke's simultaneous knee-and-elbow jive, until the last deafening moment of encore. I felt a strong surge of pride to know that this was the band on which I spent my very first Amazon purchase. Sophomore year of high school, I had eagerly purchased their new Listen album and listened to it during one of my very first fully licensed drives around my neighborhood. Unfortunately, a few months into my driving career, another driver T-boned me and totalled my car; freaked and frazzled, I called my manager saying I was going to be late to work and grabbed the smattering of CDs littering the backseat, forgetting to pop out the one in the player until the tow truck was long gone. But, using the rest of that very same Amazon gift card, I made a purchase identical to my first (though 13 cents cheaper!), recovering what I had lost.

This past Saturday, I was fondly reminded of all this, and woke up Sunday, groggy and sore, to find that I had very nearly successfully purchased a third copy of the very same album, if not for the fact that the item was currently out of stock.

Regardless, the show at the weekend was phenomenal, and I expect that my Amazon's Recommended to reflect that fact for a very long time.