Ron Gallo's Love For Italy, Coltrane, Jerry... Oh, and His New Album
"The food's amazing, it's beautiful... I guess it's just a testament to what life could be. I really loved it for that."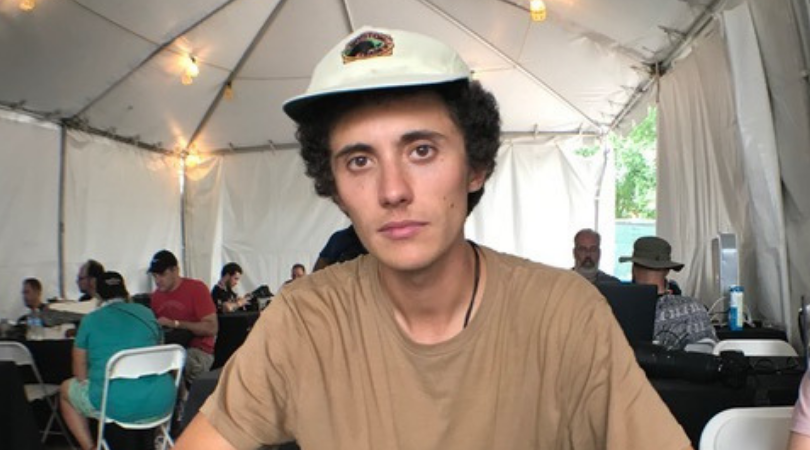 Published
The world is a smaller place than even what common knowledge suggests, at least from the viewpoint of living on a college campus with 50,000 people.

It's with this sort of mentality – the idea that it's usually not six degrees of separation, but some number far less – that I walked into Forecastle Music Festival. I knew a fair amount of the bands there in addition to doing my due diligence and learning about bands for the event, but there were only a few that I could say I had a personal connection with. Ron Gallo was one of those artists – for all intents and purposes, he's a part of the lore within AROUSE, a lesser deity on the Mount Olympus where Buckeye Donuts reigns supreme, with shitty beer and house shows as its left and right hand men.

This gave me a somewhat unique opportunity to inquire within AROUSE (specifically, our president Grayson) about things I wouldn't think to ask about reading any sort of press release. I met Ron near the end of happy hour at the press tent at Forecastle, which is to say at around 4:45 and, more importantly, after a few of the journalists and photographers had a chance to loosen up a little. We were separated from the noise of the main festival, but not by much. The media tent itself was only 50 feet and one barrier from one of the stages.

Before driving down to Louisville, I really had more knowledge of Ron Gallo the person, rather than Ron Gallo the artist. I took the days before to acquaint myself – he's very much in a rock lineage that's smart, but not pretentious to the point of its detriment. He writes as smart as any punk lead (with a few shades of big art rock groups like Parquet Courts), but sonically he's very much within the blues that's so much a part of the collective history of Nashville and acts that sound like they could be from there, like the White Stripes and the Black Keys. He released Stardust Birthday Party this month via New West Records.

TRANSCRIPT:

Sam Shomette: How ya doin' today, Ron?

Ron Gallo: Sam, I'm doing good. How are you doin' today?

S: I'm doing great! Thanks for asking! How long have you been in Louisville? What do you think of it so far?

Ron: Let me look at my clock ... it's 5:29, we got here at 1, I've been here for 4 hours and 29 minutes. I really like this festival. I think that it's got a ... (*basic white girl voice*) good energy to it, good vibe on the water. I really like Louisville, it's not too far from Nashville where we live, and we played there a few times. We have a few friends - White Reaper, you know? Just like to come up here, see them, see the town.


(Our interview was actually a little later than anticipated because Ron was on stage with White Reaper after his set was done.)


S: So I was tipped by a friend of mine, Grayson Kelly --

Ron: Oh yeah! Our mutual friend!

S: He talked about you really enjoying Italy..? I'm curious.

Ron: We spent two weeks there and people there - it seems like people there truly know how to live in Italy. Drastically different from the anxious American "gotta get ahead, I gotta become something more than I am" kind of vibe that exists in this country, and really when we got back to the Newark Airport it was almost a noticeable shift in the whole vibe from the trip.

It really puts everything into perspective... It seems there it's about living in the moment rather than killing yourself over working, and leaving yourself a little time for yourself, more "let's do the bare minimum so we can live and actually enjoy our lives", and that resonates through just about everything.

The food's amazing, it's beautiful... I guess it's just a testament to what life could be. I really loved it for that.
S: I was listening to Really Nice Guys, your most recent EP, album, long-form? Long-form play.

Ron: It's somethin'.

Editor's note: Wikipedia says it's an extended play.

S: What do you think separates that from what you've done so far? Do you have favorite track at all?

Ron: Really Nice Guys is a total... more or less, just a joke. It's us messing around, making fun of ourselves; the whole recording process itself was very nonchalant and kind of careless, which is a lot of fun to make. I really liked the way Really Nice Guys turned out, I like I'm On the Guestlist, and I like The East Nashville Kroger Conversation, and I really like Emotional Impact for Sale... So I don't know. It was just fun, kind of a bridge between that and the next record.

S: I was tipped off that you had a real sincere appreciation for jazz as well, golden-era jazz? Can you give me a top 5, either albums or artists that you listen to?

Ron: John Coltrane's definitely my number one... As a musician and as an artist, I really think that he encapsulated what music and creativity is about.

You know, A Love Supreme, My Favorite Things, Giant Steps, the record he did with Duke Ellington is one of my favorites, *boom baba chop baba boom*... Bill Evans I like, obviously Miles Davis .

S: Even the records that weren't specifically jazz, going into proto-funk and all that...

Ron: Yeah! I haven't really delved too deeply into that, but, you know, for me it's Coltrane, through and through.

S: Speaking of Coltrane, did you get a chance to listen to that new album at all?

Ron: Yeah! We listened to some of it on our drives the last couple of days. Have you ever seen the documentary Chasing Trane?

S: I haven't seen the documentary.

Ron: It's really amazing, really good.


S: There was a character that showed up a lot, Jerry - not just on Pull Quote, but pretty frequently in general from what I heard - can you explain Jerry as a character or who that is to you?

Ron: Jerry is my mom's boyfriend. He's a total cartoon character, a Jersey guy, one of the best people I've ever known. Heart of gold, but completely hilarious and has his own language and is completely and unfiltered human... He will say anything to anyone, at any time, and it's the funniest shit I've ever heard in my life.







Just his existence is kind of this character, and it felt like we should involve him in this record if we can! So it worked out perfectly.

S: I was listening through your last record, and there's stuff that seems kind of intentional, just ... not there for the sake of not being there? Stuff that purposely isn't in the music for the sake of that.

Ron: Right.

S: Realizing that a lot of what that last record is is just making stuff that's intentionally not airtight, how do you, in your general artistic process, go about making good music? What's your idea of good music for you, as the artist Ron Gallo?

Ron: I think for me, it's always been less of a tangible thing, for me it's not really about technicality, or even sound quality, but more about the feeling, the more primal emotion behind it, the character, the song - the stuff that you can't really grasp, when those things are in places, that's when my favorite music is, and that's I kind of try and tap into. I don't know, I guess that's a fine place to start.

S: What's coming up for you in the next couple months? What are you up to?

Ron: I think I'll be going back and forth to Italy a lot, because I fell in love with the place but also a person, so I'm going to go back and see her as much as humanly possible.

Album comes out in the fall, so actually pretty - well, we're doing another European tour in August into the beginning of September, so that's coming up.... And then the album in October probably? And that's all, I don't know.


S: I saw you got a photo with the one and only Nardwuar! What was that like meeting him?

Ron: We just ran into him on the sidewalk at South by Southwest, and his - it's a total character. He's not like that. He's a totally normal guy. He doesn't talk like that, no. We met briefly, we took a photo, we said a few words, and then we were on our way.

S: So you got the impression that he's not like that at all?

Ron: Yeah, he's just a normal guy.


********

Ron Gallo's new album, Stardust Birthday Party, was released October 5th via New West Records. It is available for purchase here, and also available on Spotify and Apple Music.

Ron will be playing a [sold-out] show at Ace of Cups in Columbus on November 1st alongside TWEN and Ian Ferguson.

********

Sam Shomette is currently a senior in ArtSci at Ohio State, and double majoring in music performance and linguistics.