Hop Along at Ace of Cups
"Hearing new songs mixed in with their old ones highlights Bark Your Head Off, Dog's grace and delicate songwriting."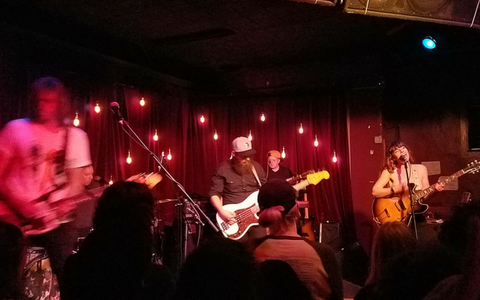 Published
In the final moments of their latest album, Bark Your Head Off, Dog, Hop Along's lead singer and primary songwriter Frances Quinlan sings that "vacation means 'leave', means 'obliterate all prior things'".

Of all the individual threads that make up Hop Along's latest lyrical tapestry, this line stuck out to me in particular - partially because they thought it was important enough to put it on a t-shirt, but also partially because I wanted to know where the idea of obliterating all prior things originated. Is it a command? Is it another musing on death and the passing of time from a writer who has always shown a fascination with them? Is it a statement of intent from a band who, after three years, returned with an album decidedly more quiet and mature than anything they've ever written? Or could it even be wait fuck that's not the line for the show, is it?

Shit I knew I should have gotten here earlier. I bet there's no fucking parking, either. Fuck.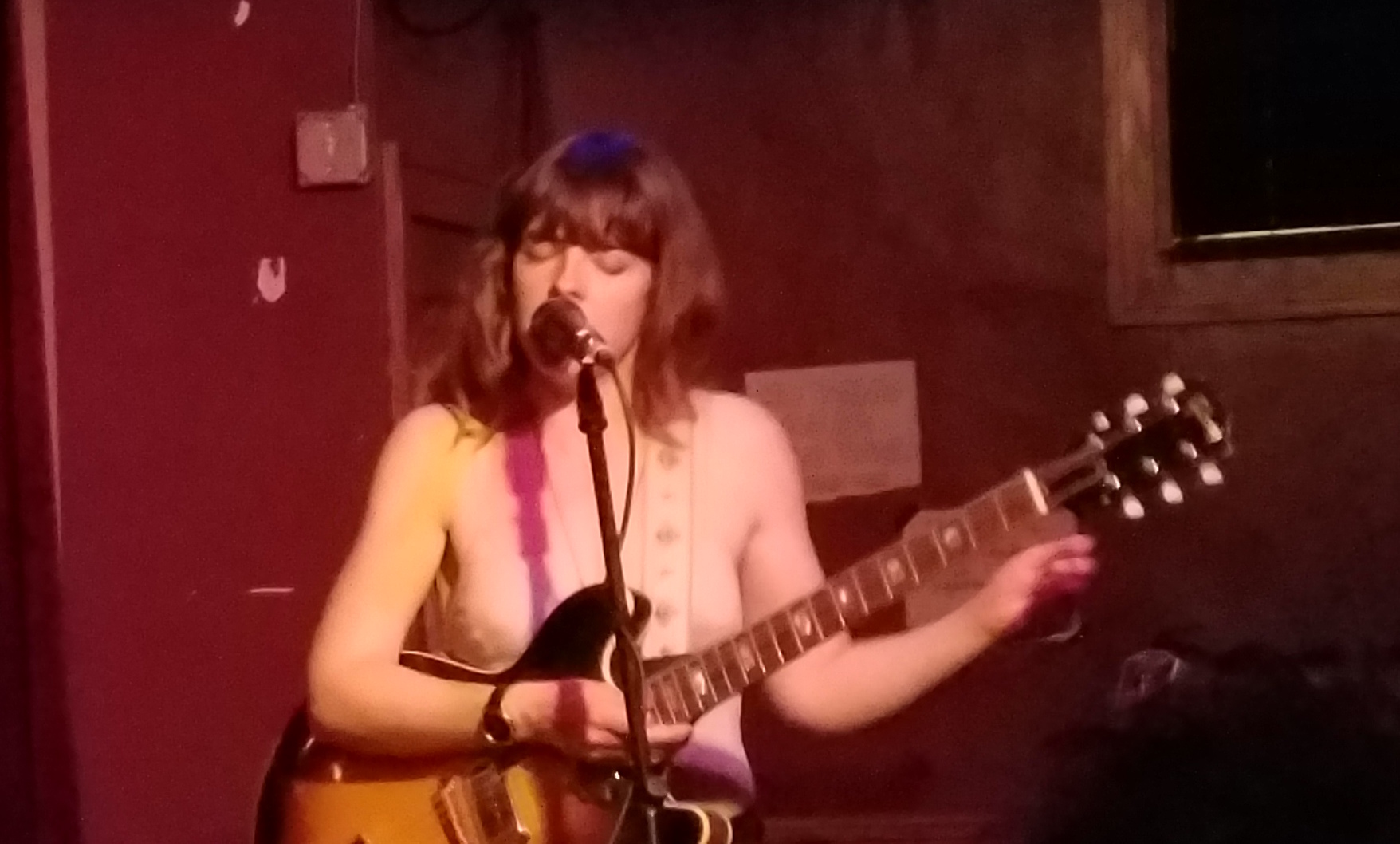 Indeed, as I learned the hard way, the line trailed well past the door of Ace of Cups for Tuesday night's sold-out Hop Along concert. I shouldn't have been surprised - Hop Along's ascent to stardom from the Philadelphia music scene in the past few years has landed them in Columbus several times, and the band has managed to build quite a following here. And touring with them was Saintseneca, local legends and swiftly rising indie folk stars. If this show didn't sell out, I'd be shocked.

Saintseneca opened the show by mixing in some excellent new songs from their as-of-yet unannounced new record in with their usual setlist. In fact, as they cheerfully informed us, their new record is actually finished, even though they have yet to announce its existence to the world. In a brilliant marketing stunt, Saintseneca even sold unofficial pre-orders of the nameless record at their merch table, offering to hand-mail the album with "a mystery gift" to everyone who pre-ordered it there. I was half-tempted to buy it just for the cleverness of the bundle. Whichever record label these folks are signed to has no idea what they've got on their hands.

I'll be honest, though - as much as Saintseneca was and is a ton of fun, I wasn't there to see them. I was there to see Hop Along, because let me tell you a secret - I fucking love Hop Along. Their two first albums are two of my favorite pieces of music ever recorded. I love their youthful energy and their casual willingness to experiment, I love Frances's dense and witty lyricism, and I love the way she screams like a cat getting its tail stepped on out of nowhere. Super sick.

As much as I love Hop Along, however, and as much as I probably annoyed the shit out of all my friends talking about this show, I had to admit I had some reservations going in. Said reservations can pretty much all be summed up in my reaction to their new album's lead single, "How Simple". I adored that song from the first time I heard it, and I still do. "How Simple" is upbeat and catchy, with an incredible earworm of a chorus ("we will both find out, just not together") and an impressively dance-y rhythm section. But despite all these good things, "How Simple" is something else as well - it's mature. And that scared me.

This might sound like me trying to justify hating things that are popular and accessible, but part of what I love so much about the first two Hop Along albums is their ragged, youthful charm. Get Disowned was amateurish in the best way, with weird production choices and songs written like watercolors, seemingly thrown together with little regard for practicality or accessibility.

Painted Shut, on the other hand, was decidedly more professional but compensated by cranking the noise, the righteous fury, and especially the wounded cat screaming to full blast. That's not to say they're anything experimental - both albums are pretty accessible and easy to listen to, but neither one sounds like they're trying to be.

Bark Your Head Off, Dog, by comparison, is decidedly more relaxed, decidedly less edgy, and decidedly more of a straightforward indie rock album than either of its predecessors. It's the first Hop Along album that, in my opinion, sounds like it's trying to be accessible, and like it came from a group of adults in a studio rather than from a group of young punks in a bedroom somewhere. Don't get me wrong - the album is great, and I was thrilled to listen to it and enjoy it. But it was almost an apprehensive sort of enjoyment, like when you go into your favorite hole-in-the-wall restaurant and see that they've renovated the counters and scrubbed all the writing off the walls. Sure, the food is amazing now and you can actually use the bathroom - but at what cost?

As much as we love to scoff at people who complain when their favorite bands "go mainstream", their seemingly snobby attitudes reflect a very real fear inside all of us, inside everyone who loves music. We love our favorite bands because there's something about them that resonates with us. We want to recapture it and listen to the one song we really like over and over until we know it by heart. We want to see them as average people, because we want to imagine that we have a connection with them that extends beyond our music library. When a band goes mainstream, or sells out, or tones it down, or whatever you want to call it, it reminds us that the band doesn't exist in a vacuum. Unlike their music, bands don't exist frozen in time for our enjoyment, and they really aren't just regular folks - being a touring musician is, first and foremost, a job. They make music because it pays the bills, not because they want to make you happy.

Or at least, that was how my cynical ass thought about it before Tuesday night.

I guess I kind of forgot this was supposed to be a show write-up, but the point is that seeing Bark Your Head Off, Dog performed in (nearly) its entirety primarily changed my perspective on the album completely. Hop Along has grown up - in the near-decade since their first recordings as a band they've gone from ragtag DIY kids playing in basements to adults performing for massive crowds of other adults in sold-out bars around the country.

Instead of ignoring this fact and trying to make music as someone and something they're not, Hop Along has embraced it and widened their ambitions as a band. Hearing these new songs mixed in with their old ones highlights Bark Your Head Off, Dog's grace and delicate songwriting.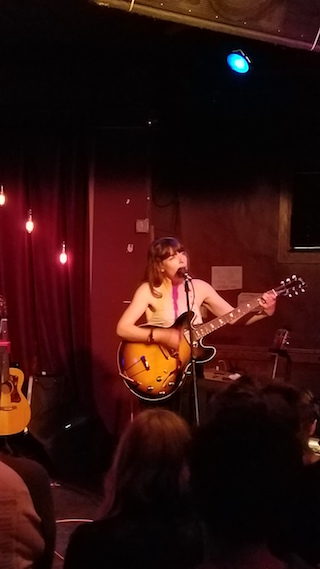 When Frances walked on stage to open the show with a solo rendition of "How You Got Your Limp", the room went quiet enough to hear her whistle during the chorus. Later, as the orchestral "Not Abel" peaked with a swirl of guitars, she actually switched guitars before launching into the song's third act, where it moves from croons about Bible verses to yelps about "giving the middle finger to the Kodak lens". It's an amazing transition, and somehow they captured it in person flawlessly. "Look Of Love" was one of my least favorite songs on the album at first, but against the moody lighting of Ace of Cups it became a dreamy dance floor ballad.

Even more than the music, the show was amazing because Hop Along looked and sounded like they were having a fucking blast. It's easy for an artist to say that they enjoy performing, or that they're happy to be somewhere, but it's much harder for them to actually make you believe it - or, as Frances so eloquently put it while tuning her guitar, "I know people say 'this shit is bananas' all the time, but I really do mean it this time".

Everyone bantered back and forth with the audience and with each other throughout the show, and they all expressed multiple times how happy they were to be there. Seeing the look on the keyboardist's face when we informed her that her favorite restaurant in Columbus was closing (R.I.P. Blue Danube) or Frances and Joe collapsing in laughter after recording an AROUSE spot in which they instructed our loyal listeners to smoke cigarettes and drop out (please don't) was absolutely priceless, but more than that it made it obvious how genuine their enthusiasm was.
As excited as everyone in that sold-out room was to see Hop Along in concert, Hop Along was just as excited to show up and perform for us. If that isn't a special kind of connection with an artist, I don't know what is. I left that show with two new perspectives.

First, Bark Your Head Off, Dog is a wonderful, beautiful album with a lot of obvious passion and work poured into it, and for me to write it off just because there are no songs you can mosh to would be a real shame. Second, even though I doubt Hop Along makes music exclusively to make people happy, for one night in Ace of Cups I really could have believed it.

After playing for well over an hour and through an encore, Hop Along closed the show with arguably their most popular song, "Tibetan Pop Stars", to the overjoyed cheers of the crowd. It seemed appropriate as an ending to the night - as a thunderous, youthful anthem, it stands in stark contrast to their new record and serves as a testament to how far they've come. As the whole room belted out the lyrics in unison, I think I found my favorite meaning of that last line - after three years, Hop Along has returned from their vacation, and they truly have obliterated all prior things.
Hop Along's most recent record, Bark Your Head Off, Dog, is available for download at their bandcamp page here, and anywhere you can find music.
Catch Hop Along on tour (selected dates):
5/19: Union Transfer, Philadelphia, PA
5/30: Brooklyn Steel, Brooklyn, NY
6/5: 9:30 Club, Washington, DC
6/6: Spirit Hall, Pittsburgh, PA
6/10: Metro, Chicago, IL
7/29: The Ballroom at Taft Theatre, Cincinnati, OH
Full Tour Schedule Here