The Mempho Memo: AROUSE Goes to Memphis
"Bar-Kays, Bo-Keys, Beerbongs and Bentleys: a Weekend"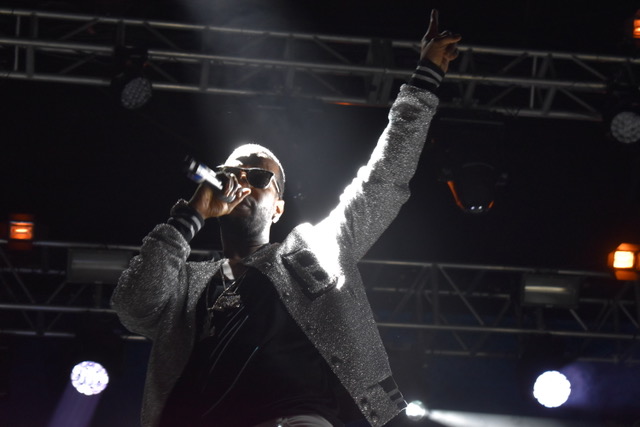 Juicy J performs at Mempho Festival. Photo: Sam Shomette
"What's stopping Memphis from having its own Bonnaroo?"

On the second day of Mempho Fest, we were presented with this question. Media was allowed a brief interview with the festival's founder, Diego Winegardner. Diego made his name in investing, but more importantly, he is a Memphis native and a graduate of the University of Memphis.

He raises about as strong a point as one can make. Memphis – the home of Graceland, Beale Street Blues, Stax Records, Three Six Mafia, and, uh, Drake's dad – has as strong of a pedigree as any city in the United States, with enough woods and open space outside the city to accommodate something of that size. Mempho is already well on its way to that – this year's festival featured a gauntlet of national acts of all genres, packed into a two-day schedule that almost demanded that you be there and sip on Tennessee whiskey into the night.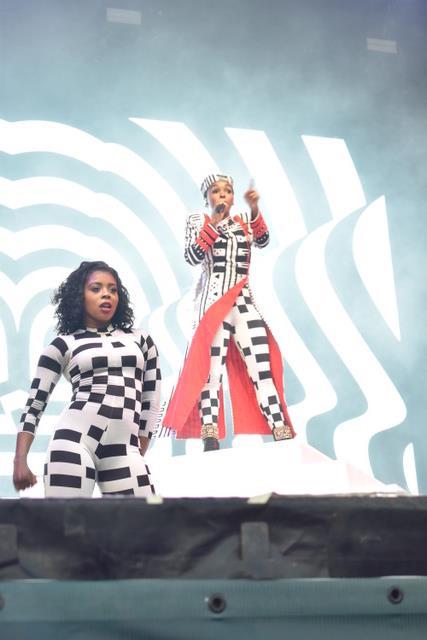 In addition to the out-of-town acts that came through (Post Malone, Janelle Monae, Mac DeMarco, and others), Mempho did a great job of representing the ecosystem within the Memphis music industry at all levels. Juicy J and Project Pat headlined, yes, but the earlier set times up into the evening were almost exclusively local and regional acts, like Eric Gales, Big Ass Truck, and the Bar Kays, among many others.

As all this relates to AROUSE, this meant there was quite a bit to chew on for coverage. This was my baptism by fire into professional photography, which thankfully went very, very well. Erik had actually never been to a music festival before, so I spent a good portion of the festival pointing out things that tend to happen at these sorts of things (example: rappers bring guest artists and entourages, Post Malone's audience was about what one would expect, Mac DeMarco's personality is tied to his hat).


Mempho, Day 1

We were greeted the first day of Mempho by Eric Gales and his backing band – Erik and I committed the sin of not doing our research before getting to the gig, though this also meant we were pleasantly surprised when Gales and company really did that shit on a Saturday afternoon. There still weren't that many people there, and it was the sort of set where you got the impression that everyone sitting in the sun on towels had the right idea: kick back with a beer and enjoy the music.

The first sign that this was a festival festival came during the Milky Chance set, where the indie kids began to gather around the First Tennessee Stage. They got "Stolen Dance" out of the way, and with their big hit in the air they were off to the races, the group rattled off a setlist that piqued the crowd's interest. I wasn't particularly enthralled, but to be fair, Milky Chance weren't my cup of tea to begin with besides "Stolen Dance." However, the anticipation for their set was some of the first of the day; things were ramping up.

Things continued to Ramp Up with sets from local act Big Ass Truck and national act Janelle Monae, who needs no introduction. Both brought a lot of personality to their stages, though the differences between them were pretty stark. Big Ass Truck is a few men with guitars and drums banging out funk – good, meat and potatoes Southern funk – that let the music do most of the talking. The flashier performance by far was Janelle's, with the stage and outfits changing as the set went on. Janelle did a lot off of her most recent album, "Dirty Computer," an album where she is center stage – she was very much front and center both on stage and in the songs. All eyes were on her, and she took advantage to add lots of flash and political flair – I don't think anyone else could hit the Michael Jackson glove pose after rapping "let the vagina have a monologue" (I almost did a fist pump in the photo pit). Big Ass Truck brought the local audience and wowed, to be sure, but Janelle Monae's set panned out to be the flashiest of the weekend. (It was certainly enough to turn Erik into a full-blown fan, actually!)

I felt as if this contrast between the acts with big regional buzz and the imported artists was almost as important to the festival as the acts themselves – there were two different audiences for each, mostly cordoned off from each other. This became pretty apparent during sets like the Royal Studios Tribute and Phoenix – both were killer live acts, but there was definitely a group of people from out of town that wasn't as interested in what was happening on the Hard Rock Stage as they were in "Lisztomania".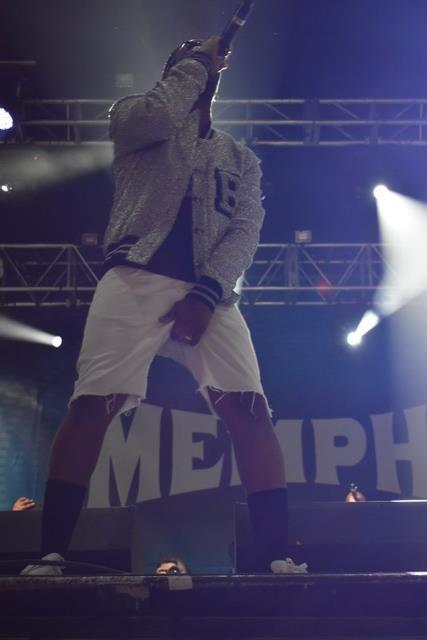 And to an extent, this was fine, almost intentional – when he was interviewed on Sunday, Diego mentioned that he wanted to build an audience and a culture based in the energy and excitement that comes with Memphis itself. This is the process of building a regional brand that can be big not just in Tennessee, but across the globe.

To my knowledge, there exists no better embodiment of that ethos than Juicy J, a son of Memphis who's influenced damn near everyone in the South after he broke out. Project Pat opened up festivities, reeling off songs and songlets of Three Six Mafia hits with the snarl you'd expect out of someone who's been doing this for a long time. That felt like the treat for the locals, the Three Six Mafia fans of all ages. The set ended for a moment, with enough time for Erik and I to walk back to the media tent and start going through photos of Project Pat.

This is all to say that when Juicy J's production tag – "SHUTDAFUKUP!" – blasted through the speakers, I practically jumped out of my seat and ran back to the stage while explaining what was going on to Erik. Juicy J literally dazzled during the set – his jacket caught every light put on it and made him look every part the showman of the hour, even directing security to open up a mosh pit in his set. Did they mosh all that much? Not particularly. Did I expect for a crowd consisting of a whole lot of teenagers to mosh all that much? Again, not particularly. But it was still a hell of a show, nonetheless – he went through his and the Three Six Mafia hits like a well-oiled machine. A machine, to be clear, that asked the audience for weed and an afterparty like anybody else would in Memphis on a Saturday night.

There was a crowd that stayed for Beck, but Beck is an artist that relies mainly on his appeal as an artist rather than the hitmaker Juicy J has been throughout his career – the audience of the festival changed accordingly. "Loser" aside, Beck started off with some of songs from Odelay, which more or less embodied the idea of him being an artist first and a pop artist second, setting the tone for the rest of the night. As much as there was anticipation for Beck, the unfettered party from the Juicy J set seemed to leave a little whenever he did.


Mempho, Day 2

Erik and I found ourselves a little more ready for Day 2 – there was no scrambling to see that everything we had was there and ready to go, because we did all of that yesterday. When we got there, we did as the tourists did – sat and ate nachos, watching the local acts open up the festival. There was a little bit of serenity to be found still in the Sunday afternoon, with Don Bryant and the Bo-Keys playing for a small audience and having fun doing it. It was about as low-stakes an affair as anything that weekend, and Mempho was better off for having that.

The first big set of the day came from Rich the Kid, and not a minute too soon – several minutes late, to be precise. Rich came out swinging with all the hits he had under his belt, and about a third of the way into his set he brought out his associate Famous Dex for his song "Pick It Up." There was a little confusion when the DJ started playing the song, but I think everyone involved, from audience to media, had the same "oh, shit" expression when Dex ran out onto one of the speakers, finally bringing the intensity to Mempho for the day.

The Hard Rock Stage was bustling through the day with local acts, and this continued into the afternoon with Stax Record legends the Bar-Kays, who brought a lot of Memphis swagger and blues for the families that had camped out in front of the stage. The set overall was as funky as you'd expect, though one of the things that stood out to my (admittedly unfamiliar) ears was their cover of "Boo'd Up" by Ella Mai, which had them put on their smooth R&B hats on for; it was a left turn in an otherwise cut-and-dry set.

The straight-ahead funk and rock continued on the Hard Rock set with Stone's Throw, consisting of members of the Rolling Stones' backing band. The Rolling Stones tunes brought in quite the crowd – this was the first time all weekend Erik knew several songs, so he was actually more excited than I was for this! Stones Throw performed with as much aplomb as one would need to cover Stones classics. Among all of the smaller acts of the day, this one stood out to me. Observing the crowd, it really looked like everyone, their dad, and their granddad turned out to see this band throw back some classic tunes, really emphasizing what we had heard from Diego about appealing to a large audience while retaining the soul of Memphis.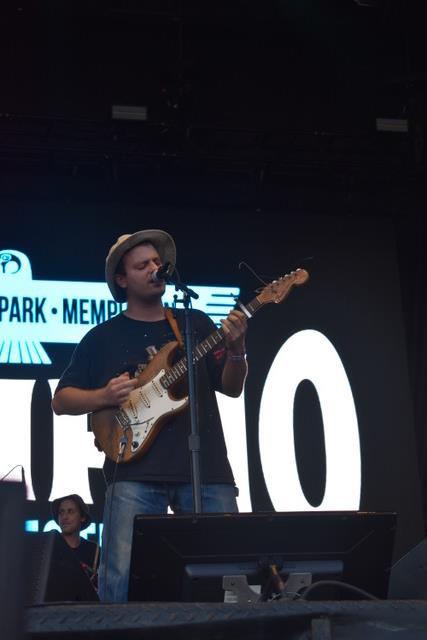 Mac DeMarco was a little bit of an anomaly on Sunday, given that a lot of the indie and indie-affiliated acts actually played the day before. Regardless, he carried that gap-toothed, giddy smile of his as he crooned, took his hat off, smoked a cigarette on stage, and just seemed to be having a great time. The audience certainly felt it - Mac has as big an artist as anybody else who was billed before him that day, and it showed in the crowd and their excitement when he came on stage. He just had fun with it, which was a step above the benchmark of "play all the notes and sing the words right." And at the end of the day, personality carries a lot of performances, no?

Things started to get a little crazy in preparation for Nas. Despite the controversy he's weathered this entire year (to be clear: Erik and myself do not stand with Nas on those issues), there was a massive turnout for his set, and all parties involved were more or less clamoring for position or trying to move things along. And there really was that feeling that a star had come on the stage when the set began. All the songs from Illmatic still hit, and even opening with "Not for Radio" from the album he released this year (produced by Kanye West!) seemed like a smart move, with the blaring sample from "The Hunt for Red October" rocking the crowd. Even though I personally wasn't enthralled once he started dipping into his discography from the mid-2000s, the crowd was hanging onto every syllable. A master at work, to be fair – the feeling of "wow, this is Nas onstage" permeated the whole thing.

It was a bit of a shame the sets couldn't be aligned so that concertgoers didn't have to choose between one of Nas and George Clinton (what a wealth of options!), but that's the choice that had to be made. George Clinton was pretty similar to Juicy J the night before, in that he very much is in the Memphis sound of funk and blues and rock while retaining his status as a global brand. The horn and group vocal work behind that white suit was electric, earning the billing of "George Clinton and the Parliament Funkadelic." The one thing I wasn't quite expecting from the group as a first time concertgoer was, to put it one way, the concept of George Clinton and Juicy J both having twerk anthems. Some things are universal, I guess. Regardless, P-Funk reigned on the Hard Rock stage to end the night.

Which brings us back to the First Tennessee stage and Post Malone. Post sits as this sort of antithesis to the Memphis brand being exported by Mempho – the post-regional, globalized American star that can be placed in damn near any lineup and have it make sense. For what it's worth, even though he has the reputation as a bland pop artist, Post rocked it with a combination of real showmanship and unreal energy from the biggest crowd of the festival. The red Solo cup he brought on stage was forgotten for the first few songs as he ripped through "Better Now" and "No Option." Hate him or love him, it was the show everyone came for, and Post delivered.

This brings me to me publicly announcing my most embarrassing moment as a photographer at this festival: my SD card filled up during the first song of Post Malone's set, which led to the biggest test of my improvisational skills in quite some time. AROUSE still got its photos, to be sure, but to panic in front of several thousand people is a feeling that I don't think I'll forget any time soon. It was quite the way to end the festival.

************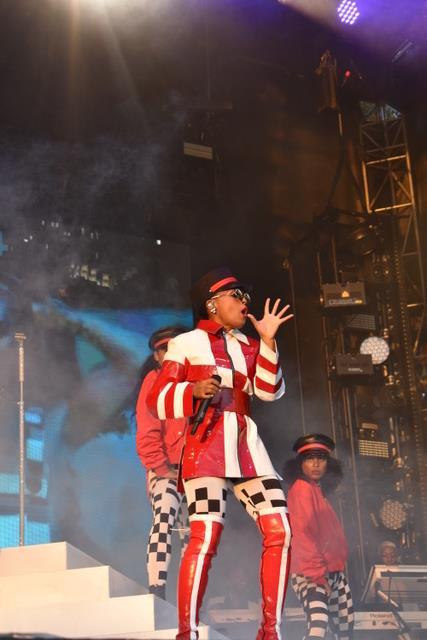 As Erik and I drove through Tennessee that next morning, I found myself working through all that Diego had said in the interview he gave to media the day before. I had asked him about the struggle to get both local and national turnout, to which he responded by outlining how this year's festival was really trying to keep its feet in both camps. Mempho is presenting itself as a multi genre festival for an audience that has become increasingly omnivorous – it's more or less the duty of Mempho organizers to insert local musicians to present the Memphis sound to those who wouldn't otherwise hear it (like those who had only come for Post, for example). To an extent, Mempho has succeeded at this, as there were plenty of acts that breached the gap from being Memphis sensations to national and international stars.

But to what extent will the demand for big artists continue to outshine the acts Mempho is showing to out-of-towners? My hope is that as this festival expands, the small acts – the ones that opened up each day like the Como Mamas, John Nemeth and the Lovelight Orchestra, and Cory Branan – continue to be swept along for the ride as Mempho grows from a two-stage festival to something much larger. The large acts that do come in aren't just a money move, for the record – these are artists that were bringing real, raw performances and living up to their billings. What every major festival uses to succeed is a loyal fanbase, a culture based around the customs of the festival, which is something Mempho is already hard at work doing in its second year. The next Bonnaroo? Mempho's already looking past the shadow of the other music festival in Tennessee.


************


Some miscellaneous notes:

• It seemed like the festival was well-fed: there were just enough booths to manage everyone during lunch and dinner rushes, though there were more booths for alcohol than meals, so go figure. Erik and I ate from a food truck serviced by Corky's Barbecue (which was actually pretty great!) and *gasp* found it to be appropriately priced.
• The Orion Dome hosted all the DJ sets for the night starting at 7PM. Walking past it all night the song selections were sometimes a little sketchy, but overall it actually seemed pretty tasteful, especially considering the whole thing was quite literally up in flames.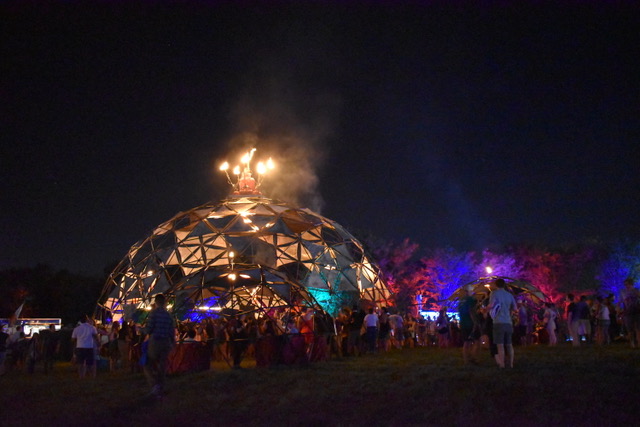 • There were a considerable amount of campers for the festival, but overall they seemed to be a small portion of those who attended the festival. Overall, it felt like the outdoorsy portions of the festival's extracurricular activities weren't really emphasized. And that's ok! The festival itself was still great.
• There was a silent disco, which actually was pretty well attended, but Erik and I stepped in once and both decided it really wasn't our thing. The DJing was about what one could ask for, though; if anything, it was just that the headphones weren't super comfortable.

************

Sam Shomette is a senior at Ohio State studying Music and Linguistics, with a minor in Music, Media, and Enterprise. He's been a part of some of the top ensembles at Ohio State and worked in the Department of Linguistics as a research assistant. He's super sad LeBron left Cleveland, but understands where he's coming from and would do the same thing. Please send him poster frames because he's been meaning to put some concert posters up.

Erik Persson is a senior at Ohio State studying Computer Information System. You can ask him about what's wrong with your Internet and there's a very good chance he'll have a decent answer. He loves cooking and cooking related media. He is AROUSE's newest and biggest fan.