Sylvan Esso: We Came Here to Dance
"Simultaneously in their own worlds and in the fluid, effervescent place they create for the audience, they pull you in until you are dancing along with your own moves..."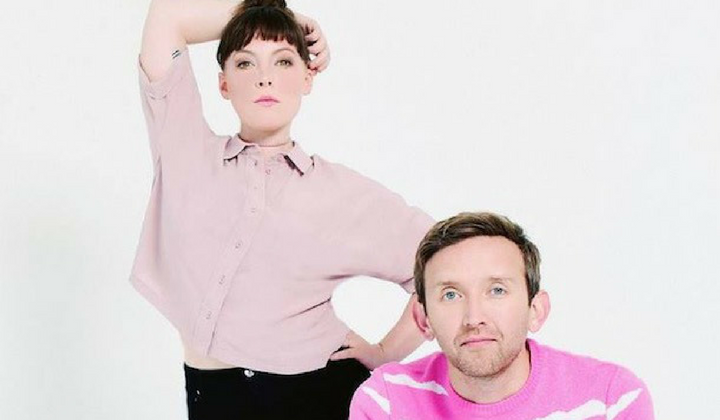 Published
On a balmy evening in late September, I turn-in my first collegiate mid-term, rush back to my dorm to drop-off my backpack, and hop-in a Lyft to head downtown to EXPRESS LIVE! The venue is hosting Helado Negro, the Ecuadorian-American musician also known as Roberto Carlos Lange, and Sylvan Esso, the electro-pop duo from Durham, North Carolina, consisting of vocalist Amelia Meath and instrumentalist Nick Sanborn. Neon lights and excited voices flood from the venue into the street as I walk in.

As I drift in, Helado Negro is in the middle of his set. He stands on stage crooning along and strumming his electric guitar while his signature shiny-silver creatures sway along with his powerful alternative-electronic tunes. His "tinsel mammals," as stated on his website, are choreographed dancers costumed in tinsel outfits. Negro writes about the history of the creatures: "another idea that began to develop was what it mean to be this shimmering thing on stage that moved. Its anonymous but its also non-human, something beautiful and strange. The idea that we can love something without knowing what it is as an audience member." Without knowing the meaning of these creatures, audience members and I dance along anyway, intrigued by the way the lights bounce off of the swaying bodies both on and off stage. Negro sang about being a Latin American man in today's America during "Young, Latin, and Proud," and "My Brown Skin," and about freedom on "Transmission Listen." He fills the audience with passion and his story, reminding us to dance along to our struggles, our heartache, and the vigor that lies in our hearts. During Negro's set, we are not just dancing along to his artwork, we are dancing along to our common human experience.

A short while after Helado Negro and his tinsel mammals split from the stage, a strong beam of blue-white light shoots out from the center of the stage and radiates from a series of chevroned neon-lights. A silhouette of Amelia suddenly shines on the stage and Nick's body bounces behind the light, as, crouched behind his soundboard, he mixes the rhythms of their first track of the night. The audience raises their arms in praise as Sylvan Esso electrifies our bodies in preparation for a night of dancing. Amelia and Nick dance upon the stage, each in their own way, in their own form, but to the same beat and rhythm. Simultaneously in their own worlds and in the fluid, effervescent place they create for the audience, they pull you in until you are dancing along with your own moves. As they deliver tracks like "Coffee," "Kick Jump Twist," and "Slack Jaw," everyone in the crowd reacts differently; some audience members nod their heads and shake their hips, others jump or sway, many shake their whole bodies, moving their head, arms, and legs in different directions. We all dance to the same beat, but let it flow through our body and control us differently. A thread of passion and power strings the whole audience along, knitting a macrame of electro-pop energy.

Through the pain of a sore throat, Amelia sings and moves with grace, occasionally sipping on her "witch brew" green tea, which sits in a Mason jar on the edge of the stage. Nick smiles with passion as he bops throughout the set, grabbing Amelia's attention before each new song. They hold each other's gaze for a few moments as Nick sparks the beat and they lead one another into a new musical journey every five minutes or so. Amelia speaks into the crowd after each track, checking-in to make sure that we're feeling alright and praising the Wexner Center and the Billy Ireland Cartoon Museum, in awe of the art spread across the city. The duo radiates so much light and love throughout the night, illuminating us with their beautiful music and transcending us to a place where we can dance, dream, and sing as one.