Interview: L.L. Bean
On October 30th, 2017, out on The Ohio Union Plaza, we were promised a Bootmobile - but alas, one was not found!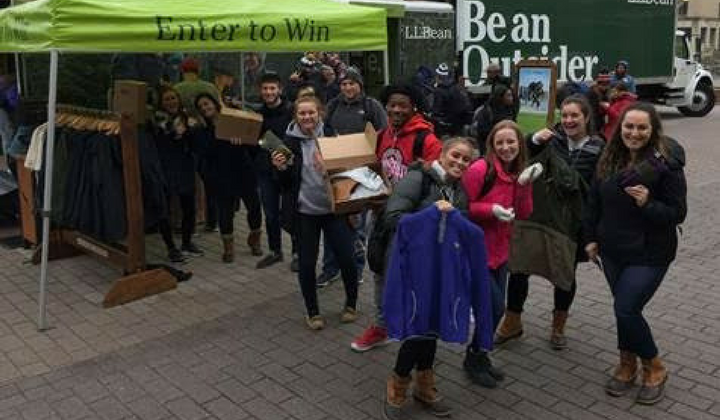 Published
NO BOOTMOBILE: Ronnie and Jonny investigate

We interviewed Lauren, a OSU student ambassador, and Ben, Bootmobile driver to the stars (supposedly) from Freeport, Maine.

His explanation (excuse) for no boot: "A few mechanical issues", thus the boot is still in Pittsburgh, PA. But, they did bring their fully stocked Outsider Trailer to compensate for their lack of Bootmobile.

Condensed Interview Below:

Ronnie: So what brings you guys to Ohio State?

Ben: Two main reasons why we're here. One of which is that we've been here in the past and we have our awesome student ambassadors who are here. so they represent the brand on a daily basis, they get all the word of mouth marketing out for us to come here. And secondly, my boss Eddie is an alumni of Ohio State University, we work together in Freeport and it as his dream to bring the Bootmobile to campus.

Ronnie: How do you become an L.L. Bean ambassador?

Lauren: I just kind of stumbled upon it, I had just kind of grown up with this brand, so I just wanted to apply and work more with this brand and help bring it to Ohio State.

Jonny: So do you get paid by how many hours you wear the boots on campus?

Lauren: So it's more off of social postings and about tabling and marketing at Ohio State. And we do also get some nice clothes to show off the brand to students and try and get them more interested in it.

Ben: The student ambassadors actually got a great experience to come to Freeport for 3 days and they got to do a 'brand immersion' as we call it or 'the bean dip'.

Lauren: Yeah, we were able to go and meet all the other ambassadors from across the country and spend 3 days with them to hear more about different peoples' stories with L.L. Bean and why they love it. It was so cool to see their perspective of it. I had never been to Maine but I really recommend it.

Ronnie: So I read that you guys are teaching crash courses on how to read a map today? How did that come about?

Ben: We wanted to bring our Outdoor Discovery School classes on to campus instead of going to the store to experience it with us. We brought Josh to do a little map and compass course.

Ronnie: How many people have you taught how to read a map today?

Ben: Today about 20. It's pretty good.

Ronnie: Alright, spreading the good word!

Ben: Our record for a day on this tour is 54!

Jonny: Is it hard?

Josh: No its super easy, would you like to learn? It'll take you like 2 minutes.

Jonny: Uhhhh, sure. I'll be back.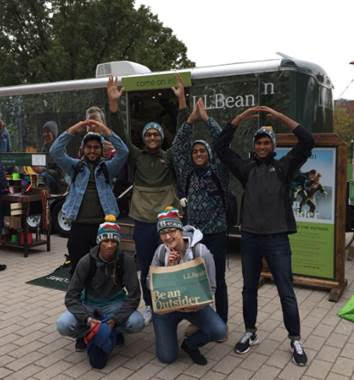 Ronnie: Jonny is gonna go learn how to use a compass, read a map. So, I have some questions about the actual Bootmobile if that's okay? It's really interesting to all of us in AROUSE! So, who came up with that idea?

Ben: So I'll take you back to our 90th anniversary as a company, which would be in 2002. We built this giant, fixed boot outside of our store in Freeport, Maine. For the 100th anniversary the Bean family wanted to do something that was bigger and better, but they didn't exactly know what. They were partially inspired by the Oscar Mayer wiener mobile. So we just built a huge boot 10 years ago let's do it even bigger and build one that can tour to all of our stores. So, the original Bootmobile came out of that in 2012 and ever since then it just became a hit and we get thousands of requests over the course of the year. And the second one we built in 2013. So between the 2 Bootmobiles we have 250,000 miles on them, we go from Freeport to Quebec, Toronto, all the way west to Vail, Colorado, South to Virginia Beach and pretty much everywhere in between.

Ronnie: So do you drive the Bootmobile?

Ben: I do! That's actually how I started out at L.L. Bean. But currently I'm driving that truck pulling that trailer and bringing our little mobile pop-up shop to campuses.

Ronnie: So how does one get into that field of work?

Ben: That's a great question! I think a marketing background, a love for the outdoors, and a little bit of good luck to get through the screening process... Rigorous driving test to be able to drive that on the road.

Ronnie: Oh yeah, do you have to have a special license for it or what?

Ben: You don't but you definitely have to make sure you're approved by many people at L.L. Bean before you drive the Bootmobile, a lot of eyes on you. Eddie was actually one of the 1st Bootmobile drivers. He actually went here at Ohio State for his 1st year and then him and I graduated from University of Maine at Farmington together. And then as soon as he graduated, literally the next week he started at Bean as the Bootmobile driver. So, he told me about it and it was definitely something I wanted to be a part of.

Ronnie: Oh yeah I definitely understand that. If I was presented the opportunity I would definitely do it. SO you said there was 2 of them?

Ben: You have to have a pair on the road!

Ronnie: YES, that's awesome.

Ben: Yeah, so we try to live the brand while we're on the road. We actually have a full lifestyle kit on the back of the Bootmobile so we have tents, bicycles, inflatable stand-up paddle boards, we can camp after an event, we get to do some adventuring.

Ronnie: So if you're not working can you just take the Bootmobile for fun?

Ben: So our schedule is pretty full at this point so we try to keep Boot 1 in New England and Boot 2 which is our ~long distance~ boot so to speak. Although right now it's the ~none moving~ boot in Pittsburgh, but it should be back up and running soon.

Jonny returns. Jonny: So thankfully, the streets in Columbus are just numbered. Im not particularly good at that. It's not difficult, I might just be dumb.

Ben: The best part about this course is that everyone who participates is entered to win a trip to Maine.

Jonny: I have one more question, so I feel like you're a pretty big brand. Do you find that ~L.L. Bean~ has trouble being ~L.L. Scene~ and that's why you need a boot car?

Ben: No, I love your choice of puns, We like to think that when we roll up on an event that we're causing the ~L.L. Scene~, So we're bringing that with us.

Ronnie: "Yessssss"...

Ben: I like to think as a Bootmobile driver I'm livin' the ~L.L. Dream~.

Jonny: Oh, Daaaaaaaang, okay!

Ronnie: This is great; this is the content AROUSE is looking for.

Jonny: Wait, I have a follow up question: So you said the ~L.L. Scene~ and that just made me think scene like goth and like when are you gonna come out with like a Doc Marten-esque boot?

Ben: We've got the jet-black Bean boot.

Ronnie: Ooooooooooh...

Jonny: Is it cool for like any show I need to go to?

Ben: Yeah!

Jonny: As well as for indoors and outdoors and moshing?

Ben: In 2012 people brought Bean boots to fashion week in New York City and rocked them on the runway. So I think that provides a sufficient answer to your question? Multifunctional AND fashionable.

Jonny: That's what I like to hear.

Ben: And you can drive it.



Ben notes that was the first time in 2 ½ years that we have promised a boot and haven't delivered. :(