John Mulaney Is Not A Kid Anymore
"What the recording can't capture and what I will share with you, is the electric energy I felt while seeing Mulaney perform."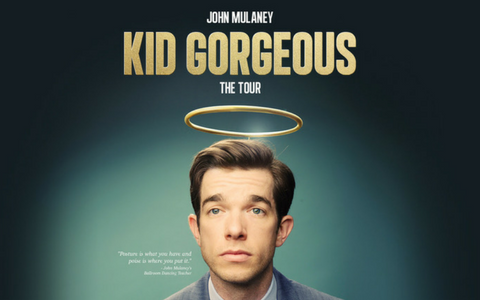 Published
The master storyteller Joan Didion once wrote, "a place belongs forever to whoever claims it hardest, remembers it most obsessively, wrenches it from itself, shapes it, renders it, loves it so radically that he remakes it in his own image." A place, an encounter, a conversation, all tinged by feeling---these are the fragments of life great storytellers can snatch from their own memories and translate into stories for their readers' and listeners' ravenous minds. Priests, bards, griots, prophets, grandparents, poets, and writers have told stories throughout history to share and teach about the human experience. One of the greatest storytellers of our generation is John Mulaney, comic, writer, actor, and virtuoso of storytelling.

Sometime in the coming months, you will have the chance to view some version of the performance I saw in January. Mulaney currently has two comedy specials on Netflix, both recorded versions of performances from his New In Town and The Comeback Kid tours. This tour, Kid Gorgeous, will inevitably also get its identity frozen in the form of Netflix special during one of Mulaney's many performances. Considering this, I don't want to give you a rundown of each bit, quirky phrase, or movement that Mulaney spilled onto the stage during those 90 minutes; that is, because comedy is about the magic of the moment. Yet, what the recording can't capture and what I will share with you, is the electric energy I felt while seeing Mulaney perform.

His jubilant, self-deprecating self has been altered by age and the circumstance; but it hasn't been reduced, more so enhanced by maturity and wisdom. He stood on stage, not as a wide-eyed juvenile, awestruck by the pains of adulthood, as he did in the past, but a fellow voyager during this time of existential and political unrest in the United States. Mulaney expressed the absurdity of college, talked about growing old with his wife and cranky French bulldog, and executed one of the most incredible metaphors of our current presidency. I came away feeling both filled up by hilarious stories and empowered by glimmers of hope. Mulaney constructed a place for the amalgam of fear, excitement, and confusion swarming disparately in his mind, grounding these feelings in his stories and lessons as if to say, this reality we are living in is insane, but I am living and performing in spite of it all. That night in January, Mulaney established himself as a hilarious and wise man, full of jokes that not only entertained but challenged the audience to deconstruct and translate the world around them, both while in the auditorium and after leaving its humble walls.