The Top 10 Lil B Tweets: Ranked
"Where did the kettle corn come from? Why is he eating it naked? Is he getting bitches because he's naked or because of the kettle corn?"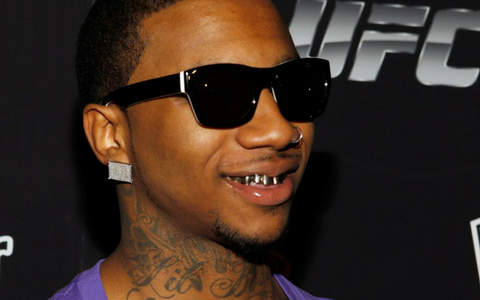 Published
If you have ever spent a substantial amount of time using Twitter, you're more likely than not aware of who Lil B is, and there's good chance he follows you. When Lil B followed me, back when I was the Tender Age of 16, I was over the moon. To be acknowledged by him was the highest honor I could possibly imagine at the time. The self-proclaimed "Based God" is notorious for following over a million people on Twitter and creating an astounding social media presence. On top of that, his tweets are just absolutely off the wall. Nothing brings me more pure, unadulterated joy than seeing one of his tweets grace my timeline. So, I have compiled, for your reading pleasure, Lil B's Top Ten Tweets of All Time.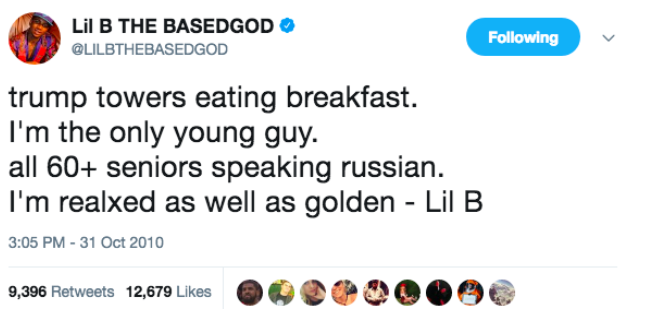 #10: Iconic Lil B predicted the 2016 election. Also notable is his spelling of 'relaxed'. It's realxed from now on.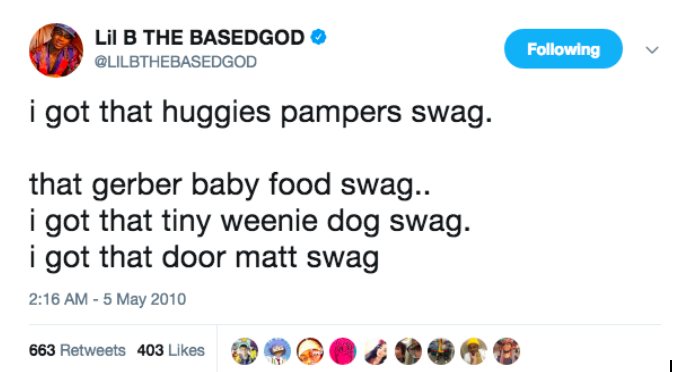 #9: I couldn't really tell you what this means, but I'm into it. This tweet is important because it is one of very few tweets from Lil B without his signature, "- Lil B", making it incredibly rare. Was this really written by Lil B, or merely an imposter? Without his signature, we can never be quite sure.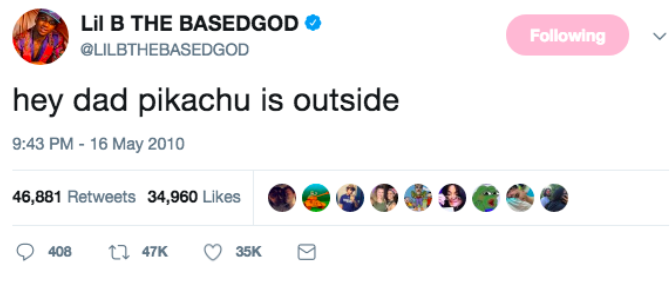 #8: This is probably my own personal favorite of his tweets. It's so bizarre that I can't help but love it. Why was Pikachu outside? Is it possible that Lil B not only predicted the 2016 election, but Pokemon Go as well? His signature is also not present on this tweet (rare!). I would love to know the context of this tweet, but I don't think I ever will.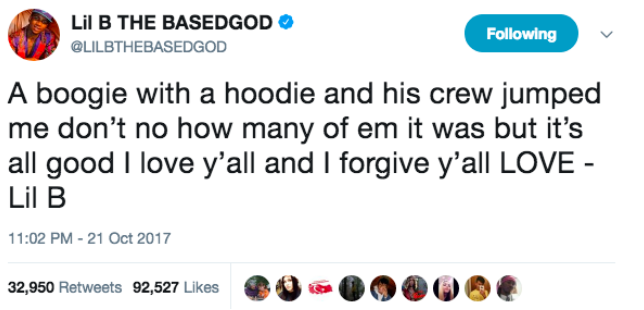 #7: Late last year, Lil B took to Twitter claiming he was jumped by rapper A Boogie Wit Da Hoodie. This lead to him cancelling his set at Rolling Loud Bay Area festival that night and instead took to the stage to announce that he had been jumped and his equipment had been stolen. Instead of putting the Bronx rapper and his friends on blast, Lil B simply forgave and sent his love. A power move! We love a forgiving king.

#6: Lil B is known for sending out slews of tweets about the same topic for days and sometimes even weeks on end. Oddly enough, he oftens goes on tangents about goths, particularly goth girls. This tweet is from mid-2015 but his love for the goth community has not died down yet; Lil B has tweeted about goth girls as recently as February 4th. That's dedication to the culture. Do you think you can pick up his merch at Hot Topic?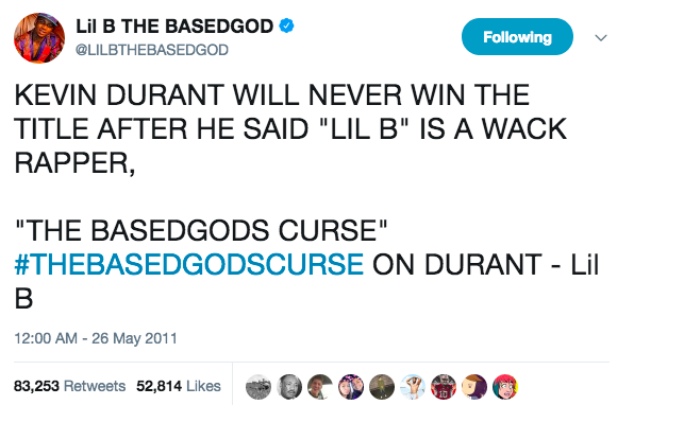 #5: The most devastating curse that can be placed on you is The Basedgods's curse. Kevin Durant took to Twitter in 2011 and expressed confusion with Lil B's popularity. As a result, he had the Basedgod's curse placed on him, saying that he will never win the NBA Championship. Lil B claims that the curse is responsible for the Thunder suffering a devastating loss to the Warriors in the 2016 Western Conference Playoffs. After Durant left the Thunder to play for the Warriors, Lil B removed the curse. He has since cursed many other players and teams.

#4: I think this one will suffice without a caption.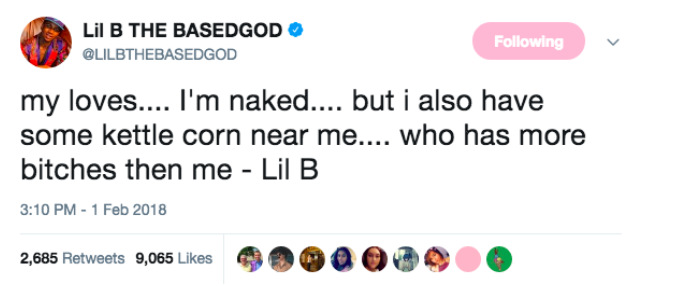 #3: This one raises a lot of questions. Where did the kettle corn come from? Why is he eating it naked? Is he getting bitches because he's naked or because of the kettle corn? Or...maybe both?

#2: Or is it because he looks like kettle corn? How does one look like kettle corn? Is this a kink? Am I kinkshaming someone?

#1: The hero we deserve.