The Naughty List
Naughtybynate_ture's 25 favorite songs of 2017.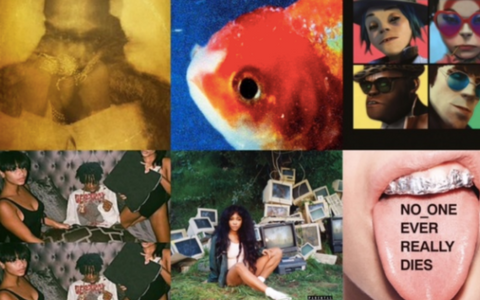 Published
According to Spotify's "My 2017 Wrapped" feature, my top genres for the year 2017 were "Rap", "Pop Rap", "Hip Hop", "Underground Hip Hop", and "Trap Music". I really don't understand the distinctions between those subgenres, as a lot of them seem redundant. However, I do believe those subgenres accurately reflect my listening habits, since I primarily listened to hip-hop music this year. Due to my listening habits, about 90% of this list is going to be hip-hop/R&B songs. However, within the hip-hop genre is an unprecedented diversity of sounds and styles, something that I believe is reflected by this list. I hope the fact that this list is mainly rap doesn't put off non-rap fans, as I believe there is a little something for everyone on this list.


25. Lanze – Wit It

The SoundCloud rap landscape produced a variety of colorful characters in 2017, from the disgraced Tekashi69 to the wildly successful Lil Pump. In my opinion, the strangest and perhaps most intriguing SoundCloud rapper to achieve viral fame in 2017 is Cincinnati rapper Lanze. Rapping with a flow that puts a whole new meaning to the term "mumble rap", Lanze makes songs that are nearly unintelligible and sound like he is having an asthma attack. Yet on some of his songs, such as "Wit It", something magical happens. The unintelligible lyrics and trap beats combine to create songs that sound like raw, untamed aggression. Even though I can barely understand it and the music video kind of scares me, I can't help but nod my head along when I'm listening to "Wit It". I think that Lanze has something really unique with his style of rapping, and if he can keep making bangers and find a way to shut down the Twitter account that is impersonating him, I think he can have a very successful 2018. (Follow Lanze's real Twitter account here.)
24. Tyler, The Creator ft. A$AP Rocky – Who Dat Boy

On his 2017 album Flower Boy (my personal favorite album of the year), Tyler, The Creator explored a softer, gentler side of himself. However, the lead single from the album, "Who Dat Boy" stands in stark contrast to rest of the album with its dark, menacing sound. Powered by eerie string instrumentation, the song lurches forward, threatening to overwhelm the otherwise sunny album in darkness. Despite this darkness, it doesn't drag the album down, and stands out as a banger in its own right.
23. Migos – T-Shirt

2017 marked the year where Atlanta rap trio Migos truly cemented themselves at the top of the rap game. On one of the best tracks off Culture, Quavo, Takeoff, and Offset rap over a laid-back Nard & B beat, creating one of the best trap singles of 2017.
22. Vince Staples ft. Kendrick Lamar and KUČKA – Yeah Right

Long Beach rapper Vince Staples experimented with a more electronic sound on his excellent 2017 album Big Fish Theory, bringing in a variety of producers to help him create a dark, futuristic sound. On "Yeah Right", Vince enlists the help of producers Flume and SOPHIE, as well as KUČKA and Kung Fu Kenny to create this scorched earth march of a song. Over an almost oppressive beat, Vince questions whether other rappers really live like they say they do, responding "Yeah Right" to their claims of criminal lifestyles and over-the-top consumption. It's fun to hear Vince go after other rappers, especially on such a well-produced song.
21. Kali Uchis ft. Fuego – Tirano

Columbian R&B singer Kali Uchis was all over the place in 2017, from Gorillaz's comeback album Humanz to Tyler, the Creator's aforementioned Flower Boy. She only released a handful of singles this year, but her song "Tirano", which is Spanish for "Tyrant", is a blissful, dreamy pop jam. She actually released three versions of this song; an English version, a Spanish version, and a remix featuring Daniel Caesar, personally, I enjoy the Spanish version the most out of the three.
20. JAY-Z ft. Damian Marely – Bam

"Bam" is one of the more upbeat songs on JAY-Z's intimate, apologetic 4:44, and one of my personal favorites off the album. Samples aren't as important as they used to be in hip-hop, so it's nice to hear a good, sample based banger, especially coming from a legend like JAY-Z.
19. SahBabii ft. Loso Loaded – Pull Up Wit Ah Stick

Although this song technically came out in 2016, I'm including this on here because I'm pretty sure no one outside of Atlanta heard this song before 2017. Channeling fellow Atlanta melodic trap artists Future and Young Thug, SahBabii raps in a sing-song voice on this track over some cloudy, dreamlike beats. It creates a really beautiful-sounding song, even if it's mostly about shooting people. Out of the plethora of rap artists coming out of Atlanta right now, I think SahBabii is one of the more promising, and a definite candidate for the 2018 XXL Freshman Class.
18. Brockhampton – BLEACH

Because the hip hop boyband released three incredible albums this year, it was extremely hard for me to narrow down which Brockhampton songs made this list. This song off Saturation III is one of the sadder songs Brockhampton came out with this year, featuring a melancholy chorus sung by Ryan Beatty, who isn't technically a Brockhampton member, along with verses from all seven of Brockhampton's vocalists.
17. Kendrick Lamar ft. Zacari – LOVE.

Kendrick Lamar's Damn was another 2017 album that had so many great songs on it I had trouble narrowing down which ones to put on this list. "LOVE" is probably one of the most romantic songs Kendrick has ever written, with the smooth, almost hypnotic production giving the song a dream-like atmosphere. "LOVE" was pretty great live when I saw Kendrick perform it on The DAMN Tour back in August. It was the stereotypical concert "everyone wave your phone lights around" moment, but it really was one of the best parts of the night.
https://www.youtube.com/watch?v=0gi-RYNhP8Y
16. Thundercat – Friend Zone

Funk bassist extraordinaire Thundercat puts his guitar skills, sing-song voice, and sense of humor to great use on this standout track from his 2017 album Drunk. Over some bouncy Mono/Poly production, Thundercat drops multiple video game references and bemoans unrequited love, creating what is easily the best funk song of 2017.
15. Gorillaz ft. Vince Staples – Ascension

Gorillaz's first studio album in seven years may have been a slight disappointment for many, however, I think everyone can agree it produced some fantastic singles. On this "Oh yeah Mr. Krabs"-sampling banger with Vince Staples, Gorillaz touch on topics such as racial inequality, conflict in the Middle East, and the end of the world. Although the subject matter may be dark, it has a very danceable beat and one of the best hooks on the album.
14. Lil Uzi Vert – XO TOUR LIF3

Lil Uzi's most popular song may very well be his best. The Philadelphia rapper has always compared himself to rock stars, and this song, with its dark lyrics yet infectious beat, shows that he may very well be a rock star in his own right.
13. Brockhampton – JUNKY

This is easily the most politically-charged song Brockhampton has come out with, touching on subjects such as homophobia, sexism, and drug addiction. "JUNKY" also features some of the boyband's most experimental production, with the dark, eerie beat giving off some Yeezus-type vibes. This song also features what may be one of Kevin Abstract's best verses, along with excellent verses from Ameer Vann, Merlyn Wood, Matt Champion, and Dom McLennon.
12. Kendrick Lamar – DNA.

One of the hardest hitting songs on Damn, "DNA" finds Kendrick at his most aggressive. This song has some great Mike WiLL Made-It production, with the beat change after the Geraldo Rivera being sample being one of the best moments on the album.
11. Playboi Carti – Magnolia

A lot of the credit for this song should go to producer Pierre Bourne, since his beat is what drives this song. It's easily one of the infectious beats of the year, but even though the beat sometimes steals the show, Playboi Carti's rapping still brings a lot of energy to the track. He may not be a master lyricist, but Carti's bars and adlibs help complete the song, which seems ready to burst with boisterous energy. And let me tell you, when you play this song at a social function, people forget how to act.
10. Brockhampton – HEAT

This was the first Brockhampton song that I heard, and the one that instantly got me hooked on the boyband. Powered by an aggressive guitar sample, this is by far Brockhampton's most disruptive track. Featuring lyrics, some rapped, some screamed, about dealing drugs and breaking necks, this song is harder than a lot of the content that mainstream trap artists put out. "HEAT" is a testament to Brockhampton's versatility, proving that they can put out everything from introspective R&B songs to danceable pop rap songs to hardcore street anthems and excel at all of them.
9. Gorillaz ft. DRAM – Andromeda

The most danceable song on an album that was supposed to be an apocalyptic dance party, "Andromeda" finds Gorillaz channeling some psychedelic Tame Impala – type vibes. Even though DRAM isn't really that noticeable on the track, he still fits in nicely on the song's bridge, and certainly does nothing to detract from the rest of the song.
8. Kendrick Lamar – ELEMENT.

On one of the more experimental tracks off Damn, Kendrick asserts himself as the best rapper in the game. Over some James Blake production, Kendrick sounds more in charge than ever, making this song a good confidence booster, and a reminder to, no matter what you do, "make it look sexy."
7. SZA ft. Travis Scott – Love Galore

R&B artist SZA had a big year in 2017, with her debut studio album Ctrl receiving a lot of well deserved attention. On "Love Galore", SZA and Travis Scott sing about past love over some of the dreamiest, most beautiful-sounding production I've heard this year.
6. Brockhampton – GOLD

"GOLD" is Brockhampton at their most confident. With its smooth piano loop and catchy hook, the song bleeds cool. "GOLD" is also notable for featuring boyband member Merlyn Wood rapping in his normal voice instead of Jamaican patois, proving that he can rap well in two different accents.
5. Vince Staples ft. Juicy J – Big Fish

Easily the most danceable song Vince has ever come out with, "Big Fish" features a great Juicy J hook and a gummy bassline. With his cold, almost detached delivery, I never expected Vince to make this club-friendly type of music, but after a listen, I learned that Vince is well at home on this kind of song.
4. Future – Mask Off

With a perfectly looped flute sample and an infectious chorus, Future wormed his way into everyone's ears on "Mask Off". This song is probably the best song Future has ever come out with, and is a demonstration of all the best aspects of mumble rap. "Mask Off" also has the distinction of being liked by my mom, who described the flute sample as "pretty".
3. N.E.R.D ft. Rihanna – Lemon

This Vine-sampling banger has to be one of the single most satisfying songs made this year. "Lemon" may take a while to find its groove, but once it does at the start of Rihanna's verse, it's one of the best grooves on any song this year. This is another one of those songs that when you play it at a function, people just forget how to act.
2. Frank Ocean – Chanel

Even though he didn't release an album this year, Frank Ocean wasn't nearly as reclusive this year as he's been in previous years. Through his blonded RADIO show on Beats 1, Ocean blessed us with four new songs this year. The best of these songs, "Chanel", is an elegant and mellow exploration of duality. Some people have criticized this song for not taking Ocean's music in any new directions and for sounding like "Blonde leftovers", but when something sounds like an album as good as Blonde, no one has any reason to complain.
1. Tyler, The Creator ft. Kali Uchis – See You Again

With its lush backing of strings and horns and its beautiful Kali Uchis-sung chorus, "See You Again" is my favorite song of 2017. The song starts out soft and gentle, until it explodes with joyous, romantic energy after the first chorus. There's been a lot of speculation about whether the subject of the song is male, but I believe that the song can serve as a great love song for anyone, whether they're gay or straight. Flower Boy is a beautiful album, and "See You Again" is its crowning achievement, showing how much Tyler has grown, both as an artist and a person.