pointBlank Radio's Top 10 Albums of 2016
"I don't have much to say here except goodbye..."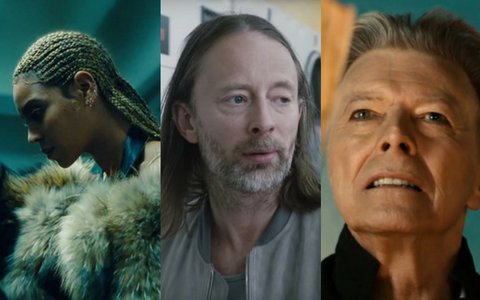 Published
10. Mike Adams at his Honest Weight - Casino Drone (dreampop, rock, indie)
Bookending the upper limit of this year-end list, my tenth pick is somewhat of an insider's affair – selected by strength of composition and by strength of nostalgia. Sure, from an objective perspective, the decorative hooks shimmer like nothing else and, sure, Adams maintains his genetically endearing, honest-to-goodness persona without sinking into obscene preciousness. However, underneath the charming earnestness and the beaming pop ecstasy on his sophomore LP, it's also memories of witnessing the Bloomington, IN stalwart performing at local dive bars or at some house-show during his husband & wife époque. These memories, in turn, subsequently give way to additional flashbacks to warm, electric Indiana evenings. If there's one thing I've learned, never underestimate the power of nostalgia. Listen to this album on Bandcamp here.
09. Hammock – Everything and Nothing (shoegaze, post-rock)
Clocking in at 1 hour 16 minutes split across 16 tracks, the temporal expanse of Hammock's latest release is only matched by its spectral mass and depth. The veteran post-rock/shoegaze outfit strikes gold once again, delivering cavernous and lushly architectured sonic odysseys scaled to celestial dimensions. The universe is chaos, entropy is everywhere, and you're placed squarely in the thick of it all.
08. King - We Are KING (r&b, soul, hip-hop)
"Who wants to run with the number one?" King declaratively announce with oozed confidence on the single of their debut LP. We Are King is a statement of arrival. It's not meant to be an aggressive assertion; nor, among its silky textures, lush grooves, and earthy vocals, could it be perceived as one. Rather, from the opening electronic pulses of The Right One to the hushed synthetic ambience of Native Land, the LA trio conveys that their presence just is a simple reality, their art as inevitable perfection.
07. The Avalanches - Wildflower (electronic)
I'm showing my age here but I was 11 when the Avalanches dropped Since I Left You to get the new millennium started. Sixteen, long, long, long years later (MBV's 21 year absence its only rival in this author's opinion), The Avalanches made their return with Wildflower, a 21 song kaleidoscope of nostalgic samples and tropical ecstasy that manages to never miss a beat. Welcome back, the Avalanches.
06. A Tribe Called Quest - We Got it From Here...Thank You 4 Your Service (Rap, Hip-Hop)
A Tribe Called Quest put the period mark behind its 31 year run, punctuating a legendary, pioneering career with their sixth and final album. It's upbeat, it's aggressive, and above all it's proud, acknowledging its own history and origins without relying on re-heated, stereotyped tropes and derivative old tricks. We Got it From Here coalesces A Tribe's best, signature characteristics – fresh sonics combined with breakneck versatility.
The Hotelier - Goodness (emo, alternative, indie)
Emo, by virtue of its modus operandi, is a genre not known for any measure of subtlety. Imprinted within its DNA, the prototypical emotional valence of much of its lyrical content often hits listeners over head with the same momentum as the clash of guitars, drums, and ubiquitously strained vocal-tics. However, underneath trademarked histrionics, a particularly effective representative album is uniform in its targeted use of symbolism and story-telling. Said differently, albeit somewhat reductive in its analogy, one can shout about having a bleeding heart but please mind dripping it all over the carpet. Goodness, the hotelier's follow-up album since 2014's devastating home, like no place is, frames its narrative in tiered sections, each Scaffolded by short interludes that also fall right into place. As a result, the scaling feels expansive, the riffs and drum-kicks dwarfing, Christian Holden's earnestness so palpable. The Worcester collective also takes a bit of a left turn. While home, like no place is crushed forsaken listener's under tormented weight related to 'too-close to home' circumstances, goodness comparatively eases the tension even if the objective sonic force largely remains unchanged. The difference? The intervening years have marked a shift in perspective and orientation, a surfacing for air with an "or die trying attitude". There's genuine light to be had. And the hotelier puts listeners on notice that they're trying to find it with concerted effort. The ultimate product is a record that is doctored in its conception and execution, yet still raw, tense, and memorably authentic.
04. The Radio Dept. - Running Out of Love (dream pop, lo-fi, indie)
Their first album since 2010, The Radio Dept. returns to the game with Running Out of Love, a much darker, more serious collection of pieces relative to their previous body of work. The subtle, subdued hooks are very much still present, but these added dimensions provide surging gravitas to a band progressing through its timeline. The end product is an expert release as salient as anything the Swedish indie-pop group has accomplished in a still blemish-free career.
03. Beyonce - Lemonade (r&b, top 40)
Beyoncé - All Night from Heber on Vimeo.
There's mythology in royalty and iconicity. Reality becomes a rather fluid commodity, subject to varying degrees of insightful analysis. In Lemonade's case, the saga and self-portraiture of such a public, powerful figure hit home and was the target of widespread professional and armchair scrutiny. Figuratively and, in all likelihood, literally as Lemonade is damning a document against an unfaithful husband on its surface. However, Lemonade cuts deeper than mere speculation, even despite whatever outrage the album intended to spark. For whatever truths and conclusions exist in time and space, the rage and the love are real, universally transferable and delivered in en masse by this generation's singular voice.
02. Radiohead - A Moon Shaped Pool (art rock, experimental)
King of Limbs left me cold back when it was released. Several years removed from the enveloping and spectral In Rainbows – one of the decades best and most important releases at the time -- Radiohead's return was somewhat underwhelming in content and delivery. Advancing the clock to 2016, the heavy-weight experimental outfit returned to form, carrying on with elements of In Rainbow's haunting yet warily tranquil narrative. There's still hallmark paranoia and anxiety perpetually nibbling at the frayed edges, infiltrating the innermost pockets of Thom York's prodded psyche. Still, the orchestral swells and exacted moments of serenity feel grounded and genuine, almost signifying that York and company have anchored to earth for the first time. The results are as spectacular as they are breathtaking and A Moon Shaped Pool enters an already hallowed canon of music as a work capable of standing freely against all else.
01. David Bowie - Blackstar
I don't have much to say here except goodbye. Blackstar is as complete a parting gift from one of mankind's most important artistic voices as one could be so fortunate to experience. Godspeed, my friend.