Attending the Fashion Meets Music Festival Preview Event
"At this point, they're handing out free beer. I think Ben and I were the only ones taking this as a challenge. At what point were they going to cut us off? We had to find out."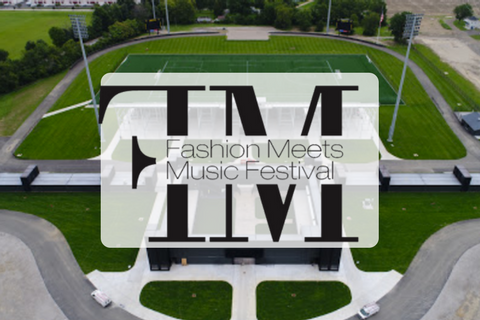 Published
I gotta say, the night devolved really quickly. It started out like any other day. I woke up in my Godparent's Bexley home around 9am, and did my usual morning calisthenics… you know, to get the blood pumping. It's Shabbat, so I sit on the porch and learn how to play "Hava Nagila" on guitar, and play it for the locals coming back from temple. Was that inappropriate? Maybe, but they seemed to be digging it. I need to study for my finals for Monday, but I'm too worried about what to wear for the Fashion Meets Music Festival promo event, because fashion is in the name and I'm vain. So what? Crucify me.
"...I have to add, it's pretty crazy that we're even here. I joined AROUSE almost three years ago, and I've been to approximately zero meetings."
I order a Lyft and meet my friend, Ben, in the Short North for drinks. I couldn't tell you my driver's name, but he had fuzzy dice AND a hula dancer on his dashboard. Needless to say, he got all of the stars.

Ben and I make our way to the Fortress Obetz for the FMMF event, where we meet up with Melissa, the FMMF Communications Director. She shows us to an upstairs VIP bar, and has us wait for a hot minute with the other press. I have to add, it's pretty crazy that we're even here. I joined AROUSE almost three years ago, and I've been to approximately zero meetings.

At this point, they're handing out free beer. I think Ben and I were the only ones taking this as a challenge. At what point were they going to cut us off? We had to find out. I'm chatting up a rep from Abercrombie. He tells me how the company is switching their target demographic to 20-something young professionals. I'm about to ask him why he isn't wearing anything from A&F, but Rod Davidson, an Obetz Village administrator, interrupts and offers us a tour of the facility. Ben and I make sure to grab a few beers for the journey. We switch from Budweiser to Bud Light in order to stay hydrated in the brutal heat.

Fortress Obetz, which sits on the site of the old Columbus Motor Speedway, opened up last May, when they hosted the opening game for the Ohio Machine, Columbus' new(ish) MLL (Major League Lacrosse) team. The Ohio Machine is the first organization to form a partnership with Obetz Village, where they plan to have all of their future games hosted. FMMF has used the Machine's home games this Summer to hold promo concerts featuring some of the local artists who will be performing at the festival. Rod explains to me how the entire facility isn't completely finished yet, so for their opening year, Obetz Village is primarily hosting just the Ohio Machine and the FMMF. Starting next year, they pretty much have a booked calendar.

I think it's important to add that the entire facility is made from recycled shipping containers, which, according to Rod, was a sustainability move instead of a financial one. In fact, refitting the shipping containers was more expensive than if they had just built new buildings.
After our tour, we watch local artist, ZOYA, perform. Born in Belarus and based out of L.A. and Columbus, ZOYA released her debut EP, Veracious Heart, this last April, and has been touring in support of the album since. I'll be honest. I remember very little after this point, and whatever I write won't do ZOYA justice. I remember enjoying her music, which seemed like a hybrid of Russian church music and modern pop. It's now time to watch the Machine play their final home game of the season against the New York Lizards.

Ben and I grew up playing lacrosse together, so we're pretty hyped (thanks, in part, to the 8 or so beers in our stomachs). Getting to watch Paul Rabil, a childhood hero of ours, play, and root against him (he plays for New York) was very surreal. Believe it or not, the Machine was number one in the league last year, tragically falling in the championship game to the Denver Outlaws 19-18. This year, they've made it to the playoffs again, and will likely have a rematch with Denver in the finals. We grab a few more beers and watch the Machine trounce the Lizards 21-14.
The halftime show is fans talking about their fav ice cream? #raspberrychocolate chip pic.twitter.com/DHoARLjITM

— AROUSE OSU (@OSUStudentRadio) July 29, 2017
We're sitting outside the stadium, and our Lyft is pulling up. I'm explaining to Ben how I'm a phone killer, and in an act of divine providence, I drop my phone getting into the car, totally wrecking it. Phoneless and feeling reckless, I decide it's a great idea to go back to the Short North to celebrate not getting cut off at Fortress Obetz. It's time to see if we can pull it off in the big leagues.
"...This was my Pickle Rick moment."
Based off of my credit card statements, I know we went to all of the bars. At some point I lost Ben and ran into some of the players from the Ohio Machine. My old friend Tequila showed up, and before I knew it the bars were closed and I couldn't find my way back to High Street…

...And so began a trippy journey filled with wonder, pain, total confusion, and self discovery. This was my Pickle Rick moment. Without a phone and any viable way to get back to Bexley, I was left to wander the neighborhoods of the Short North. I wasn't sure what I needed, so I kept walking. Around 3am, I came across a swanky apartment building, and I was convinced I knew somebody who lived there. I didn't. After thirty unsuccessful minutes of throwing rocks at the building windows, I gave up and decided I needed to move on. I made my way to a house party that was on its last legs. Desperate, I walked in and explained my situation to the remaining revelers. I spotted a guitar in the corner and offered to play in exchange for an Uber back to Bexley. They agreed and I played a ten-minute Jazz rendition of "Hava Nagila".

It's 5am. My phone, bank account, body and spirit are all broken, but I made it back to Bexley. (See what I did there? Framing.)

I can't promise that you'll have as crazy of a night as I did if you go to the Fashion Meets Music Festival (August 18-19). What I can say is that, like Columbus' developing art scene, this Festival is constantly changing and taking on new iterations of itself. Whether you've gone to the festival before or this is your first time, this will be a unique event. I just went to a promo event and I had my world rocked (pun). Head on down to the Fortress Obetz and experience for yourself an atmosphere that will soon become one of the premier event locations in our city. While you're there, check out the Ohio Machine and see why lacrosse is the fastest growing sport in America. We have a lot of crazy cool new projects and organizations making a home in Columbus, and you can be sure that we at AROUSE will be there covering it, probably three or four beers too deep.