Review: Steadfast Festival
"I may not be moving up in the world, but Steadfast definitely is."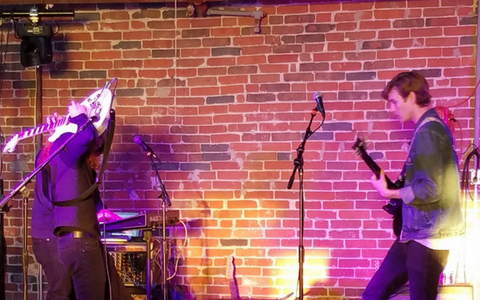 Published
In May of 2017, I spent a day inside the Veritas Church on 4th Street covering Steadfast Festival for The Lantern. Last week, a little less than a year later, I took another trip into the city to cover Steadfast for this year, with two major differences. The first one was that I showed up late because I slept until one o'clock in the afternoon and took a 30-minute shower, and the second was that Steadfast Festival had moved - this year, the festival was held at Strongwater Food & Spirits in Franklinton. In other words, I may not be moving up in the world, but Steadfast definitely is.

That's not to say the Festival last year wasn't a great time - Tuned Up's eclectic mix of bands from Columbus, Nashville, and everywhere in between made for an exciting and unique festival lineup, and this year was no different. The change of venues, however, has done wonders for the festival as a whole. While one of the stages last year was held in a gallery space with lots of natural light and vivid artwork, the other two suffered a little from space and lighting restrictions. At Strongwater, each stage got its own room, with arrays of plate glass windows and skylights illuminating the entire space throughout the evening. Apparently, Strongwater was formerly a century-old warehouse before being converted into a venue, and its history is reflected in the aesthetics of the space. Strongwater and Steadfast feel like they were made for each other.

More than anything, Strongwater helps highlight Steadfast's unique niche as a festival. With only one day and two adjacent stages, Steadfast aims for quality over quantity. The festival is organized by Tuned Up, a music review website specializing in smaller, independent artists, and each year the lineup picked based on the artists the Tuned Up staff found interesting or exciting. The end result is a lineup of relatively unknown artists from around the country - while Tuned Up is based in Columbus, the festival manages to keep a fairly even ratio of local acts to touring ones, giving the audience an opportunity to see plenty of out-of-town acts they might not be familiar with. While the festival definitely skews heavily towards indie rock and indie pop genre-wise, there's enough variety among the bands to keep it interesting. I remember being particularly impressed by Seaside Holiday, a six­piece group out of a small Ohio town that played a weird and incredibly unique combination hybrid of dream pop, electronica and math rock influences. Some of the other acts I saw included Personal Public, an upbeat Columbus alt­rock band, and Danger Scene, an indie pop band from Nashville that I could only describe to my co­author and partner in crime Katie as "Twenty One Pilots with EDM" (I promise it's not supposed to sound snarky). Closing out the night were headliners Playing to Vapors, one of the more unique indie rock bands in Columbus, and Day Wave, a hazy indie pop artist all the way from California.

While other festivals in the area have struggled to gain new footing or hold onto old ones, Steadfast is on its third year and shows no signs of slowing down. If you're curious about why, you only need to talk to Tuned Up founder Ryan Getz for a few minutes. I stopped him at the festival to say thanks and ask him about some of the bands on the lineup, and his genuine enthusiasm for the music he's covered and the work he's done at Tuned Up is palpable. Steadfast works because the people behind it are the same people you'll find in the many audiences around Columbus, and because every artist on the lineup is an artist they wholeheartedly believe in.

I should probably put a quote from Ryan about the festival here to end the article, but I forgot to get any because I'm not a real journalist and I'm not good at my job.

Overall, Steadfast is probably the most fun you can have in a single day if you live in Columbus and you're into independent music. I'm excited to see what Tuned Up has planned for the future, and if this year is anything to go by you'll want to get there early.