Flipturn at Rumba Café
Published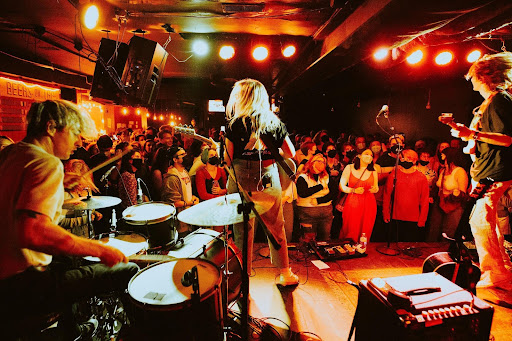 Flipturn is a five piece band from Florida who made their Columbus debut at a sold-out show at Rumba Café on Sunday, October 17th. It was the final stop on their first National Headlining Tour, Warmth In The Rain Tour. The band consists of Dillon Basse on lead vocals and rhythm guitar, Tristan Duncan on lead guitar, Madeline Jarman on bass, Mitch Fountain on synth, and Devon VonBaison on drums. They are a group of talented individuals who came together to create amazing music and captivating live performances. Even before the opener started her set, the crowd, full of young alternative types, was buzzing with excitement.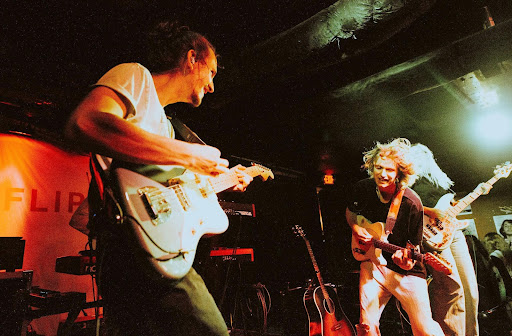 Their show was opened by Haiva Ru, from Santa Barbara, California. Her set set the tone for the night and immediately got heads bobbing across the crowd.

Flipturn's music has a very chill, mellow sound, but their stage presence is anything but. The band took the stage around 6:15, exploding into their single "Churches". Packed with exciting guitars, bouncing drums, impressive vocals, and lots of jumping, the crowd was quickly engaged. In many live shows the music takes on a new life when put in front of an audience, and this is undeniably the case with Flipturn. The sound is more immersive and alive than a studio recording could possibly capture.

Their set was packed with heavy interludes, impressive vocal flourishes and melodies that made the crowd go wild (such as in "Hippies"), acoustic songs ("Poppies"), covers ("Everybody Wants to Rule the World" by Tears for Fears) and plenty of audience participation.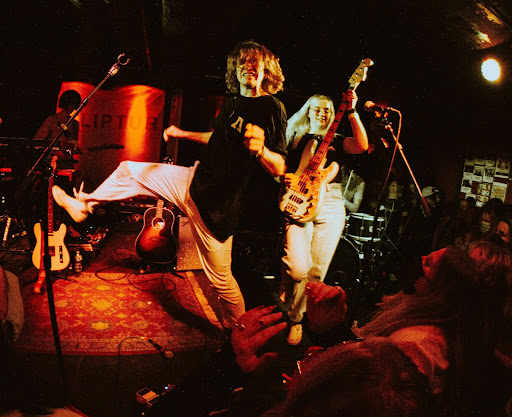 Those who are fans of Flipturn will be excited to hear that their first full-length album is currently in the works, and they even played a few songs from it at the show. They would sometimes switch which songs were played at each city, and Columbus got to hear "Playground", with a bouncy, upbeat feel, and "Space Cowboy", which is inspired by, but has nothing to do with, Cowboy BeBop.

When the band left the stage, the crowd cheered loudly and began to chant, "One more song! One more song!" until they returned for an encore. They played their popular song "Chicago" encouraging the audience to attempt to out-sing the city of Chicago, at which they had just played the night before. The band's request received loud singing and lots of energy. For their final track, they played their song "Nickel". When Dillon put away his guitar for this track, it was clear that this was going to be a loud, bouncy, and energetic finale to their night. And boy, did they deliver. Dillon went out into the audience and sang with the crowd, and the group left people cheering for them long after they had left the stage.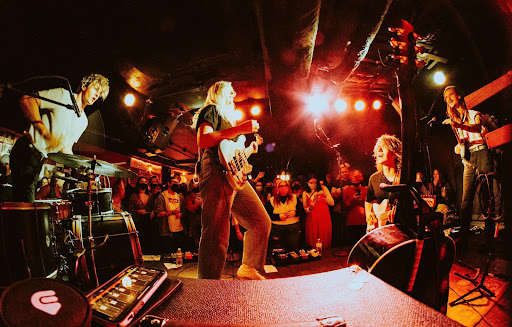 I had the privilege of interviewing the band before the show. We talked about touring, working during quarantine, and musical inspirations. Here's how it went:

Gabrielle Smith: So, you're working on a new album- what should fans expect from that at this juncture?

Madeline Jarman: I would say to expect something that's definitely us, but expanded, in a sense. Like, it's still us to our roots, but we're definitely branching out a little bit in composition.

Dillon Basse: And I'd say a lot of it is, like, we're growing as people, and also we've added new members to this group, which has allowed us to have new interpretations of how the Flipturn sound is and how it happens and what things happen with it, which is pretty cool.

GS: What's it been like working on that with quarantine, and everything like that going on? Has that changed to recording dynamics much?

DB: I think the misconception through quarantine was that artists were just so inspired by what was going on, and I think that it was just the opposite, like, lack of inspiration.

MJ: Honestly, Bo Burnam's "Inside", that hit so close to home. Even though it's very different, it's like, oh my god we relate him hardcore because we can create, but it was rough. But, we were productive.

DB: We were, it's just, there was just this expectation. "You're artists. You must have plenty of time now", but I don't have any… I'm not doing anything! I'm just sitting, 'ya know? There's nothing to draw from. So, it's tough.

MJ: We did a lot of writing over quarantine, when we could, but now, like a couple months ago, we started going to the studio in LA, and we're going to go again soon, like in a month or two and hopefully record some more.

GS: And now you're on your first national headlining tour? Has that been a nice change of pace?

DB: Yes, definitely.

Mitch Fountain: It's tiring, but it's fun.

GS: Has there been a lot of good reception from fans?

DB: I'd say so, yeah.

MJ: It's insane, honestly. It's exceeded all of my expectations, and makes me feel really good, because the past year we couldn't really do this. It really tells me this is what I want to do, and this is what I should do.

Devon VonBaison: We've gotten opportunities to play new music, too, and that felt super important. Getting that out, what we're doing currently, pretty important.

GS: And those receptions have been good, I assume?

DB: Yeah, I would say that.

Tristan Duncan: We've tried, like a handful. We kind of intermittently switch them out depending on where we are, and it's worked.

GS: So, I heard you guys were in Chicago this morning. It seems like you're traveling around a lot, and pretty quickly. When you do have some spare time, what do you like to do in each city?

MJ: Sleep.

DB: Eat food.

MJ: Find a good coffee shop. Sit down, slow down a little bit, drink your coffee. We like to find good lunch spots.

GS: Where were you guys eating just now?

TD: The Egyptian place.

DB: It's so good.

MJ: I was very surprised. Not because it was good, but because it was there.

GS: If you could describe your sound in like, three words, what words would they be?

MJ: I bet Devon knows three words.

DV: Uh… transcendent… indie… sweat-rock.

MJ: Sweat-Rock!

DB: Sweat-rock.

DV: Indie Sweat Rock.

DB: Actually that does kinda make sense.

MJ: It sounds a little more intense, but…

DV: It's like what happens when we play live.

DB: It's funny 'cause, Brooke, before she ever saw us play, was like "Your music does not sound how you guys perform at all. Your music just sounds like chill stuff, and then you go to a show and it's nuts."

DV: That's what I was saying- you're sweating.

DB: So, I guess that makes sense. Indie sweat rock. I like it.

DV: … Feel-good indie sweat-rock.

MF: That's more than three words.

GS: Who are some of your musical inspirations?

DB: Oh, that's going to be way different for everybody. Recently, Liz Cooper. Huge inspiration. She's incredible. That's just been in the last year, I would say.

MJ: Hmm. I'm looking through my Spotify… I guess as a general one, I love Bombay Bicycle Club. They're one of my favorite bands. The bass lines are sick in their music. Let's see, oh, King Gizzard. King Gizzard & The Lizard Wizard. We love them.

TD: I'm actually wearing a shirt for a band called Big Thief. I love them. And Adrianne Lenker. As a frontwoman, she's incredible.

MJ: We LOVE Big Thief. Mitch?

MF: I have no comment. I.. I don't know. I have genres of music. I don't really…

MJ: What were you listening to in the car?

MF: Today? To stay awake? Like, straight funk music. Straight funk. And like, Indie Soul. New Soul music is really good.

DV: A few of these bands, too, you can hear in our walk-up music for every set.

MJ: Oh, yeah, like before every set we play like three songs, and the first one is a King Gizzard song, which one is it?

MF: It's "Catching Smoke".

MJ: Right, we have "Catching Smoke" by King Gizzard. And then it's "Masterpiece" by Big Thief. And then the third one, I wouldn't really consider them an inspiration for us, but-

DB: That song is just there because it's such a cool walk-up song. It literally says "Go", and then counts down.

MF: People haven't really caught on to that, though.

DB: They will if we keep doing it in the same city.

DV: Keep doing it over and over again.

MJ: It's really a perfect walk-up song.

GS: My last question, with that, is if you could tour with any band ever, who would you be touring with?

MJ: Oh my goodness. That's a loaded question because I have a lot of people who I could say, but I guess the first band I thought of is Phoenix. Their live show is absolutely incredible. We saw them at Shaky Knees a couple years ago and it was the best show I've ever seen. It's still the number one live show I've ever seen. And we all really like Phoenix a lot.

DB: Yeah, Phoenix is amazing.

MJ: Big Thief would be pretty cool.

MF: Vampire Weekend.

DB: Vampire Weekend!

MJ: I mean yeah. Who wouldn't? That would be awesome. Um.. yeah, I guess anyone that we mentioned before, but I think Phoenix would be incredible.

Flipturn had crafted a live show that encouraged audiences to dance, jump, clap, and sing along. They have expertly transferred their laid-back, indie music to a rock show that old and new fans can easily enjoy. Catch them back in Columbus in March, touring with Wilderado— they are not a band to miss.