Mordechai Review
Published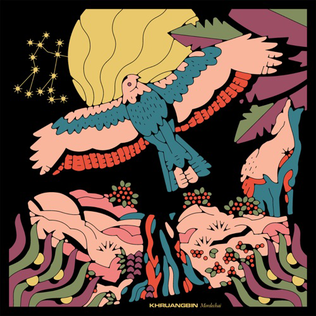 Dating back to a time before the Beatles, when the Ventures and the Lively Ones were getting radio airplay, instrumental rock has always been part of the American musical landscape in some form.

Still, success and exposure for a group like Houston-based trio Khruangbin is rare in the 21st century. Beginning with 2015's The Universe Smiles upon You and continuing in 2018's Con Todo El Mundo, the group has propagated a sound and a modus operandi unlike anyone else in the popular or even alternative sphere. The first thing one notices when visiting these albums is the sprawling instrumental compositions like "August Twelve" on The Universe Smiles upon You or "Como Me Quieres" on Con Todo El Mundo. These spacious, reverb drenched, largely guitar-based pieces recall a more laid-back and mellow version of surf-rock king Dick Dale, or the improvisations of someone like Sandy Bull.

Vocal-based pieces show up as well, such as "White Gloves" on the Universe Smiles Upon You or "Friday Morning" on Con Todo El Mundo, but the lyrical content itself often consists of wordless exaltations, or just a few repeated lines that are sung in a chanted, trance-like state and placed so far down in the mix that they sound far away and subordinate to the instrumental improvisation.

This is all tied into a bow by the international influences that tinge their particular brand of genre bending rock. The Universe Smiles upon You is more of a meditation on the luk thung music of Thailand (the country where the word Khruangbin meaning "airplane," originates) while the Con Todo El Mundo plumbs more Spanish and Middle Eastern influences.

These trends are both continued and tweaked in the group's third effort, Mordechai, which was released in June 2020. Yes, instrumental compositions are still there; "Father Bird, Mother Bird" is a classic Khruangbin piece in this vein containing a very wet sounding guitar a la surf luminaries like the Astronauts or the Pyramids under some lilting riffs from lead guitarist Mark Speer. This is notably the only fully instrumental track on the album.

"First Class" and "One to Remember" continue in the vocally subordinate vein previously mentioned. For example, "First Class" mainly consists of repetition of the word "solamente." Here, words are not used as lyrics per se, but mainly as a means of creating texture and establishing an atmosphere around the guitar lines and is done to perfection.

What stands out on Mordechai though are songs like "Time (You and I)", the lead single off the album, and "So We Won't Forget." These are without a doubt the strongest songs Khruangbin have released from a lyrical standpoint. Though they keep an emphasis on simple constructions and hypnotic repeated phrasing, these songs show a mature evolution of their songwriting to elucidate certain themes. These themes encompass a certain nostalgia that was implicit, at least for me, in their previous work such as "August Twelve." The hook of "Time (You and I)" goes "That's life/ If we had more time/ We could live forever/ Just you and I/ We could be together.", while "So We Won't Forget" deals with the prospect of remembrance and writing something down so it is not forgotten; As a 22 year-old senior that is about to graduate, I have lived many lives up to this point and themes like this have always been and remain poignant for me, which may be why I connect with this album and Khruangbin in general.

An early 2020 collaboration with neo-soul star Leon Bridges on the Texas Sun EP could certainly have launched the group to new heights of musical maturity. More likely, it is the wisdom that comes with a third album, and the honing of a sound that comes with that, that drove Khruangbin to infinity and beyond here.

Whether it is Dylan with The Times They Are A Changin, Radiohead with Ok Computer, or Ariana Grande with Dangerous Woman, the third album is traditionally where an artist comes into who they really are and crafts an individual identity. That is definitely the case for Khruangbin and Mordechai.