Local Artist Spotlight: Zoo Trippin'
The energetic band shines light on the bountiful Columbus music scene and confronts its depth.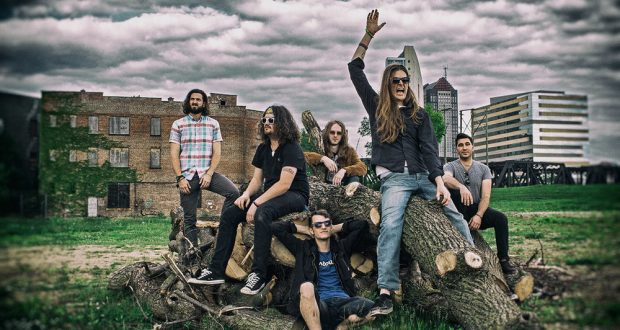 Photo courtesy of Catherine Smith for The Lantern
Published
Columbus, Ohio is home to a seriously dense pool of talented musicians. No matter your preferred genre, on any given night, you can find a band in the city playing in that style. From Rock to Electronic to Americana, Columbus truly has it all. However, if we were to strip away these styles and invent a simple new genre: Columbus… What band would fit the bill? The answer lies in Zoo Trippin'.
Zoo Trippin', a high-energy rock outfit from Columbus led by frontman Tony Casa, has been active in the city for years and is a group that's steadily gaining traction in the Columbus music scene. "This city is full of fuckin' weirdos… But they're talented weirdos", spoke rhythm guitarist and vocalist Drew Dimitrovski in an interview with The Lantern last year. "If anybody asks what we sound like, my favorite answer to give is we sound like Columbus."

When describing the typical "Columbus sound", lead guitarist Lynn Roose III speaks at length about the geographical attributes that make Columbus, and its artists, unique. "We're kind of in this middle distance between New York and Chicago, and it's very rock-influenced… But you also have great electronic acts like Damn the Witch Siren, Americana like Angela Perley, Pop like Nick D' [And the Believers]... I don't think there's any Columbus band that's influenced us… but it's kind of like, in the ether… You grow up in the same cities with the same problems and the same ideals, and it kind of sounds alike."

Zoo Trippin's latest release, Great White Buffalo, speaks to these midwestern problems and ideals alongside a diverse, heavy rock section which is accompanied by a variety of other influences. The album's standout opener, Animals, dives headfirst into high-energy rock riffs and steady, loud percussion fills. Casa's energy seems to build steadily throughout the track, and finally culminates in a cathartic yell that can't help but get the listener hooked - "Join the animals, here at the Zoo!"

Great White Buffalo, when consumed whole, is a testament to the complicated nuances of midwestern rock pinpointed in Columbus. Heavy rock riffs seamlessly blend into a blues rhythm established on songs Bluebird, 5/4 Goes West and the title track, Great White Buffalo. Casa is joined on the closing track, Dirty Dog Blues, by female vocalist Alex Burnsides. The track is a fitting close to the collection of songs, incorporating themes from all of the previous five tracks into one fantastic finisher.

Live in concert, Zoo Trippin' is an entirely different (though not unexpected) beast. The high energy that comes through in the band's studio work is taken to a new level - Casa can be found jumping on every corner of the stage, leaning forward into the crowd, and during instrumental breaks, pounding his hands in rhythm on side-stage windows. Lynn Roose's immense talent is confidently on display at lead guitar, as he seems to effortlessly shred through the entire performance - and throughout, drummer Steve Hatmaker provides powerful, incredibly technical percussion.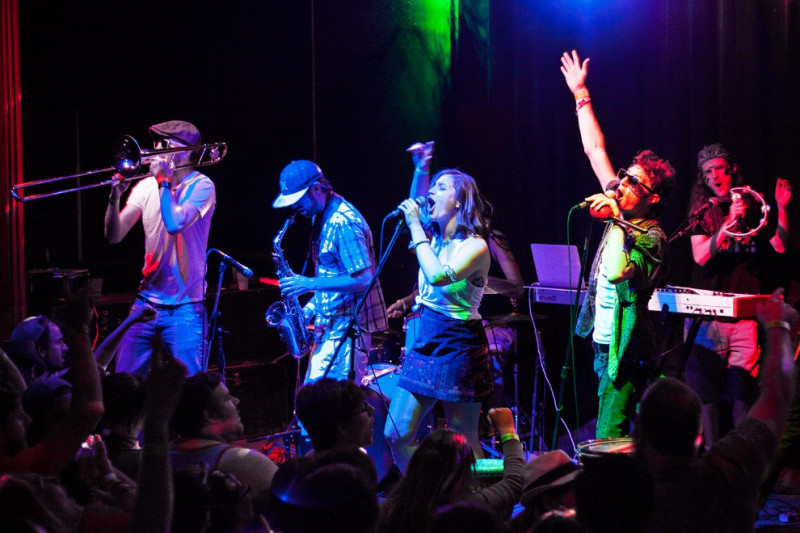 Photo: Zoo Trippin'
Zoo Trippin' is no stranger to a large live show - regularly pulling members of other bands to the stage, every show is a "superjam" - or, as stated by Dimitrovsky, "...we can become as big as a 13 piece band, and then it becomes a zoo." Describing the show as a zoo is an apt metaphor - from condom-filled pinatas, to alcohol shots with an elderly grandmother and friend of the band, to a surprise megaphone appearance (amazingly, keeping its siren in tempo with the song being played), the band always seems to have a chaotic trick up their sleeve to crank the intensity and energy to new levels.

Zoo Trippin' was born and raised in Columbus, and when speaking to any member of the band for more than a minute, it's readily apparent how much pride they all take in the city and its music scene. If you're looking for the next Columbus band to take a listen to, I implore you to "Join the animals, here at the Zoo".

Zoo Trippin' is currently writing for their newest album, Purple, which is planned to be 12-14 songs in length. The group is accepting donations for the album's production at their GoFundMe page here.

Listen to the entire AROUSE interview with Zoo Trippin' here.