Interview: Rock and Roll Hall of Fame CEO
A conversation with Greg Harris, the President of the legendary Cleveland museum.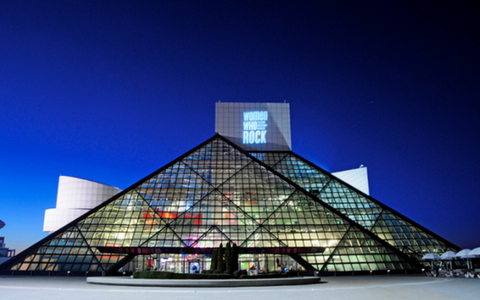 Published
AROUSE was fortunate enough to speak to Greg Harris, CEO and President of the Rock and Roll Hall of Fame in Cleveland, Ohio, about the 2018 Induction Ceremony on April 14th, this year's class of Inductees, exciting happenings around the museum this summer, and what the future of rock and roll looks like. Tune into AROUSE on April 11 at noon to catch the full interview on Afternoon Tea with G.

This interview has been edited from the original recorded version for clarity.

Genevieve: So your role at the museum, what do you do?

Greg Harris: In this role at the museum, one of my goals is to make sure that we are always growing, we are changing, we are stretching, we are reaching new audiences. And that's what I like doing, I'm not one to be happy with just maintenance mode. I want to see this place grow and expand and we have done some really fun stuff over the last couple of years. We now do 60 days of live music every summer. We have worked with some celebrity chef partners and created a great food experience at the museum with a bunch of craft beer and great menu items. And we just continue to evolve and change and grow. We have traveling exhibits that are going around the country right now. Last year we opened-up a satellite museum in Tokyo.

G: Oh wow, I did not know that. Can you talk a little more about that?

Greg: Sure, well we have a model where we create great exhibits at the museum in Cleveland and then we send them out on the road and they travel to other museums. We have worked with some partners in Tokyo. They prepared an exhibition space and we send exhibits over there and work with them. And also the goal is these partners want to build a permanent museum before the 2020 Olympics.

G: So right now you are gearing up for the Induction ceremony, which will take place on April 14th in Cleveland, Ohio. And this year, Dire Straits, Nina Simone, Bon Jovi, The Cars, Sister Rosetta Tharpe, and Moody Blues are on the Induction list. What makes you really excited about this year's Inductees?

Greg: It's such a diverse class, which is pretty exciting and great. To have bands that make arena anthems and then power pop, and more "musicians musicians." I am a huge fan of Sister Rosetta Tharpe. You know, she was playing electric guitar blues in the late 1930s and it sounds an awful lot like rock 'n roll. And she is recognized by Chuck Berry as a big influence, by Elvis as a big influence, by Jerry Lee Lewis. And most people look at them as influences, so she is the one who influenced the influencers. And that is really cool. The other part is, so many fans are excited about Bon Jovi and the Cars, and others going in, but that is kinda contagious.

G: I focus a lot on female musicians on my show. I am very excited that Nina Simone and Sister Rosetta Tharpe are on the Inductees list. You mentioned Sister Rosetta Tharpe, but are there any interesting facts or information that you would like to share about these women?

Greg:Yeah, you know Nina Simone, is a really incredible figure, truly the high priestess of soul. She is an interesting story because she was a child prodigy pianist from North Carolina. Her family moved up to Philadelphia and she was going to enroll in an esteemed conservatory called the Curtis Institute of Music, it's like the Juilliard School but it's in Philly, and they did not accept her because she was African American. I should say, they did not accept her in the program, but it was a real, blatant affront. What is interesting is that it just drove her to go even further and continue to study. And she studied with some of the professors outside of the school, since she was not formally accepted. It always left an [impression], that and her own sense of justice; she always spoke out and even got sorta tired of the US and lived in France for quite a while, where there was not a segregated South, and things like that. She was a really incredible figure.

And then, Sister Rosetta Tharpe. The amazing thing about sister Rosetta Tharpe is that she made both secular music and gospel. And she became such a big star that she would do shows in baseball stadiums. And fill them. Yet, she ended up almost dying an anonymous death and being buried in an unmarked grave after being on top of the world. She has sorta not received the recognition that she deserves. Musicians know about her. Bob Dylan talks about her, Johnny Cash [talked] about her, people like that. But for her to be recognized to the wider culture with Induction into the Rock and Roll Hall of Fame is terrific.

G: How do you educate the public about these nominees and help them learn more about how they have really influenced rock and roll, leading up to the Induction?

Greg: Yeah. There is nothing like hearing their music played or seeing their music. So that is one way and and the other way is, we let people know about them up to the Induction, but then beyond, we are opening up a brand new Hall of Fame gallery at the Museum, it will open in time for this year's Induction. In the gallery, they can see videos of every single Inductee, they can hear recommended songs from a curated playlist of their most impactful music and you kinda get a bit of them that way. And likewise through our digital channels like RockHall.com.

G: How do you guys do the research to see how artists in the Hall of Fame have influenced artists from the last 30 years, or present day? Is there a team that does that?

Greg: There is. At our museum, we have a really great curatorial team and they all do research on the Inductees to make sure we have the story right. We have an education team that does a lot of research and a library of archives that helps us keep it all on track and find the stuff we need.

G: Are there any other events or exhibits at the Rock Hall this year or this summer that you are really excited about?

Greg: Yeah, in May we are going to open-up an exhibit that is about rock and roll in television. It's called "Tuned In" and it's going to talk about the connection between rock and roll and television, starting with the Beatles on Ed Sullivan, but going right up to today with all the different bands that play on, you know, the late night television shows, like Jimmy Fallon. And then the other exhibit that is really exciting, we are going to open in June, is all about rock and roll in pop culture and the core of the exhibit will be about 20 pinball machines that are rock and roll pinball machines.

G: That is amazing!

Greg: And visitors are going to be allowed to play them. So there is a KISS machine, there is a Who machine, there is Elton John, there is a Beastie Boys machine. The goal is to let visitors kinda play these things and think about when they were teenagers playing pinball and listening to rock and roll.

G: Why do you think it's very important to teach people about rock history in the 21st century and in an era when rock's identity looks a lot different that is was 70 years, or even 15 years ago?

Greg: Well for us, our definition of rock and roll is very broad. It's blues, gospel, country, but it's also heavy metal, it's dance music, it's disco, we put hip-hop, we put hardcore, we put punk---everything is under "rock and roll" for us. So when you have that big definition, we are constantly looking at current music, whether it's the Alabama Shakes, or whether it's Lady Gaga, or whether it's Jason Isbell. And that all fits in our view of rock and roll.

And the important piece is that I think it's such a powerful art form because it impacts and it connects with so many people. There is a huge value to studying the things that impact these big movements of people [and] understanding why people connect with it and what it means to them at a different time.

We did an exhibit on festivals and it was not about who has played what festival---it was about, why do people stand in fields with a hundred thousand other people and go to Bonnaroo or Lollapalooza or Woodstock or Monterey---it's all the same, does not matter what generation it is, it's still all the same ideas and questions and connecting with your tribe.

G: Is there a particular direction you see rock and roll going in the next few years?

Greg: I love the way that it has become even more democratic, that people can, you know, mix beats and put some lyrics to it and post it, and it goes everywhere. Or people can record with just a guitar and a mic and share it and that bands can distribute their own records without massive infrastructure. So I think that that is going to really continue and I think that that is kinda exciting. And the other part is, because there are not a lot of people making money selling records, there are so many bands and artists that are touring now. The opportunity to see great music on any given night in Columbus is probably pretty normal these days. But I do not think it was that way, in the same way, 20 years ago, and I think that is going to continue as well.

G: Yeah it's very cool to hear, especially having a radio show and having this radio club, you learn about so many different, disparate genres of music, but people like to come together to talk about it and share it, and that is really cool. Is there a platform at the Rock Hall, that helps connect visitors to learning about new music, happening in Cleveland or in their own town?

Greg: We do not have that right now, but it has been talked about, something that is a broad, sorta listing of every band that is playing somewhere in the country that day. For us, our focus is really promoting the bands that we have at the museum and it's a really thick calendar of activity, getting people down here to hear that music. Occasionally we stream it live, but really getting folks down here to experience the music is an exciting thing for us.

G: Are there any bands on your radar right now that you would like to share with listeners?

Greg: Well I understand you may have interviewed Adam from Low Cut Connie?

G: [laughs] I did, yes!

Greg: I think that they are one of the greatest bands in the country right now, the greatest live band. And very exciting, I just heard from him as a matter of fact, they are playing Bonnaroo. So, listeners there, do not miss Low Cut Connie, pretty amazing.

G: Back to the Induction Ceremony, for listeners who do not know much about the ceremony, how can they be a part of it and watch it?

Greg: The Induction Ceremony is April 14th. We will do things all week long that week. We will have special screenings, we will have bands playing at the museum and activities going on. The Induction is sold out, so you cannot see that, but it will be broadcasted a couple weeks later on HBO. So the broadcast will be in May on HBO and people should check it out, it will run a number of times and I would say that is the best way to connect with the Induction performances.

G: Those were all of the questions I had, but thank you so much for talking with me. I am very excited for the Induction Ceremony this [spring] and it sounds like there is a lot of good stuff going on this year at the Rock Hall.

Greg: Oh there is. If folks are in Columbus, come on up [to Cleveland], make a road trip. But thank you for the time and for allowing me to be on your show.

G: Of course! Have a great day Greg, great to talk to you.